Fees
Most offers of the University Library are free of charge. In some cases, however, fees apply:
Printing, copying, and scanning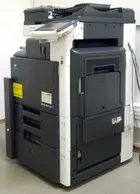 Interlibrary Loan
Within Germany, books are usually sent for free. In exceptional cases, a fee of no more than 10 euros can apply for photocopies.
Reminders
If your items are overdue, the Library has the right and is obligated to ask you to return them and pay a fine. Reminder fines cover the administrative costs for sending the reminders. They go into the general treasury of the Free State of Bavaria and are not allocated to the library or book budget.
Exclusion from the Library