Research profile of Sociology at Bamberg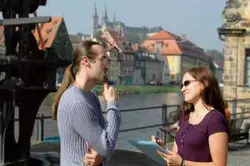 Sociology at Bamberg addresses virtually all issues and problems of modern societies and thus covers a broad range of current sociological research.
The main research areas are placed in the fields of educational research, the sociology of labor markets, migration and integration, sociology of the family, and globalization. These topics are analyzed within the frame of third-party funded projects and affiliated research institutes as well as at Graduate Schools.
Due to the proximity to the current research work of 16 professors and numerous research associates, Sociology at Bamberg stands for a close interlinkage between research and teaching.