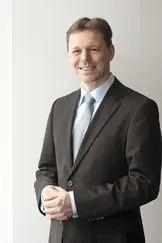 Curriculum Vitae
Björn Ivens studied Business Administration at the Friedrich Alexander University Erlangen-Nuremberg as well as politics sciences at the Université Robert Schuman in Strasbourg (F).
Before he started his work at the Chair of Marketing at the Otto Friedrich University of Bamberg he held a professorship for marketing at the business and economical faculty of the University of Lausanne.
Björn Ivens sees his professional challenge within the harmonious combination of scientific research and practical orientation. Research results have been published in different books as well as articles in international and national journals. He introduces new empiric and conceptual contributions regularly at leading international expert meetings. Besides, long-standing research cooperations with colleagues, inter alia at the University of Lausanne, Lyons EM and the University of Tilburg do exist.
As a visiting professor he was and is active at several German, French and Swiss universities and Business Schools. His teaching experience covers the Bachelor and Master degree as well as contributions within the scope of Doctoral Schools and international MBA-or Executive MBA programs.
Cooperation-, consulting-, and seminar projects with different medium-sized and larger enterprises serve the practice transfer and exchange of experience.
He showed engagement in the academic self-government inter alia within the scope of university marketing projects of the FAU Erlangen-Nuremberg, as a representative of the FAU Erlangen-Nuremberg in the German French college, as a co director of the common ExMBA program of the university of Lausanne and the EPFL as well as a vice dean of the business and economical faculty in Lausanne.
Presently, Björn Ivens is inter alia spokesperson of the Postgraduate School for Business Administration (BaGSB) of the OFU Bamberg. He supervises several internal and external dissertation projects and is regularly active as an external consultant in doctoratal examination procedure of international universities, recently at the Universities of Tilburg (NL) and Manchester (UK).
He is a member of the Editorial Boards of the magazine "Industrial Marketing Management" as well as Ad-Hoc-Reviewer for numerous other international and national magazines.