Innovatives Marketing: Entscheidungsfelder - Management - Instrumente
Alexander Haas & Björn Sven Ivens (2005)
Um national und international wettbewerbsfähig zu bleiben, müssen Unternehmen ihre Innovationsfähigkeit immer stärker unter Beweis stellen. Innovationskraft setzt voraus, dass Unternehmen permanent in der Lage sind, Trends zu erkennen und Lösungen zu entwickeln, um stets eine Länge Vorsprung zu haben.
Die Autoren bieten dem Leser einen Überblick über die unterschiedlichen neuen Wege, die in den verschiedenen Teilbereichen des Marketing derzeit beschritten werden. Ausgewiesene Experten aus Wissenschaft und Praxis berichten über aktuelle Trends, Innovationen und Veränderungen im Marketing:
Grundlegende Aspekte
Konsumentenverhalten
Marketingprozesse
Marketinginstrumente
Management
Institutionen.
ISBN-13: 978-3409034180
Verkauf und Kundenmanagement: Eine prozessorientierte Konzeption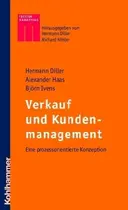 Herrmann Diller, Alexander Haas & Björn Sven Ivens (2005)
Im intensiven Wettbewerb ist es von zentraler Bedeutung, möglichst effektiv und effizient neue Kunden zu gewinnen sowie vorhandene zu binden. Dabei lässt sich die Verkaufsarbeit heute durch technische Systeme, wie Kundendatenbanken oder Internet, nach neuen Regeln und mit neuen Gestaltungsoptionen vollziehen.
Vor diesem Hintergrund stellt das Buch Verkaufen als gleichermaßen strategische wie operative, kundenbezogene Arbeit im Rahmen eines ganzheitlichen Ansatzes dar. Eine prozessorientierte Perspektive rückt dabei nicht die Verkaufsaufgaben als solche, sondern deren schrittweise Erfüllung in den Mittelpunkt, um Praxisnähe und Anschaulichkeit zu erhöhen und auch den Zugang zur betriebswirtschaftlichen Optimierung der Verkaufsprozesse zu ermöglichen.
Das Buch stellt aufgrund seiner klaren Struktur und seiner didaktisch vorbildlichen Stoffaufbereitung mit präzisen Definitionen, vielen Fallbeispielen, Abbildungen, Übersichten und Verständnisfragen das ideale Lehrbuch für Marketingstudenten dar und bietet auch Praktikern einen systematischen Stoffzugang und neue Hilfestellungen.
ISBN-13: 978-3170184039
Beziehungsstile im Business-to-Business-Geschäft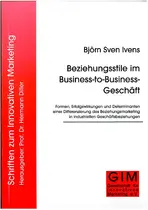 Björn Sven Ivens
Die Dissertationsschrift von Björn Ivens befasst sich mit Strategien des Managements von Kundenbeziehungen. Dabei wird insbesondere auf die Bedeutung sog. "weicher Faktoren", etwa Flexibilität, Vertrauen, Zuverlässigkeit oder Gegenseitigkeit, eingegangen. Den konzeptionellen Kontext hierfür liefert die Relational Contracting Theory. Im Rahmen einer empirischen Studie unter 297 professionellen Einkäufern zeigt sich, dass "weiche" Governance-Elemente im Rahmen einer Kundenbeziehung einen hohen Einfluss auf Kundenzufriedenheit und –bindung ausüben. Darüber hinaus werden vier typische "Beziehungsstile" identifiziert, die sich hinsichtlich ihrer Erfolgswirkung deutlich voneinander unterscheiden.
ISBN: 3933286085
Organizing and integrating marketing and purchasing in business markets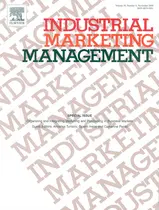 Annalisa Tunisini, Björn Ivens, Catherine Pardo (Eds., 2009)
Concepts such as "customer orientation", "relationship marketing", "service dominant logic", "product to solution evolution", or "supply chain management" have been developed, discussed, and sometimes criticized. But what do they mean for companies' configuration? Scholars in the field of business marketing have long concentrated their research efforts on inside–out processes. They have given priority to interorganizational questions. But business marketing is also a matter of people, their practices, the activities linking them, and the structures providing orientation — like departments, functions and positions. It is also a matter of organization. As a consequence, these intraorganizational issues should not and cannot be separated from the interorganizational ones.
Against this background, this special issue on "organizing and integrating marketing and purchasing in business markets" aims to address two main research issues: Firstly, the impact that a relational context — in particular the variety of interactions and interdependencies between customers and suppliers — may have on the strategic role, organization, capabilities and performance of the marketing and purchasing functions. Secondly, the integration of these two functions between them and with other functions within the firm.
The papers in this special issue deal with a broad spectrum of industries and subject areas, use different methodological approaches, draw different sets of conclusions and find a variety of implications. Nevertheless, they have a common denominator: they all deal with issues related to the organization of the marketing function, or the organization of the purchasing function or the marketing/purchasing integration, and the connection between those intraorganizational aspects and the interorganizational aspects of customer or supplier relationships.
An set of international authors and specialists in the field, such as Professors Jag Sheth or Nigel Piery, has contributed articles covering some of the most important dimensions of marketing and purchasing organization.
Volume 38, Issue 8, Pages 847-1024 (November 2009)