Theses
The Chair of Marketing is eager to offer acceptance for as many interested students as possible, however, resources are scarce and not every student can get a place at our chair. As finding the right topic, providing adequate guidance, correction and assessing the thesis takes time, it is in the interest of everybody that we do not accept an unlimited number of students.
Please believe that this situation is not desirable for us as well, however, at the end of the day, we have to teach, fulfill our tasks in the university's self-administration (e.g. academic advisory, preparing learning agreements and student reports, leading the post-graduate school etc.) and, not to forget, do research. Therefore we have to limit our amount of places for guiding students writing their thesis.
In the diagram below, you can see the number of theses that were guided by the Chair of Marketing in the past semesters.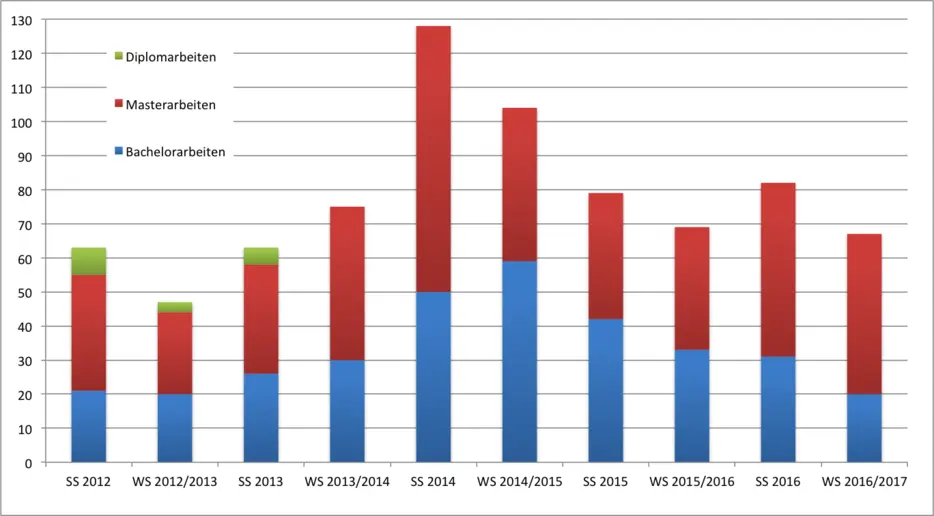 Working on your thesis
For all theses applies: The scientific work is written autonomously by the student. Autonomously means that we offer guidance, however, it must be clear that the author has the ability to write a scientific work on his own. Scientific means that you do not write a journalistic work, but work on the basis of the research outcomes in your subject area.
Therefore it is important that you make use of the relevant scientific literature in an early step of your work. Apart from subject related journals, these are for example:
Journal of Marketing
Journal of Marketing Research
International Journal of Research in Marketing
Journal of the Academy of Marketing Science
Marketing Letters
Journal of Business Research
Journal of Consumer Research
Industrial Marketing Management
Die Betriebswirtschaft
Zeitschrift für Betriebswirtschaft
Marketing - Zeitschrift für Forschung und Praxis