PHILOSOPHY
「The Graduate School」

The Bamberg Graduate School of Social Sciences was established in 2010 to create an innovative working and learning environment for exceptionally qualified doctoral and postdoctoral researchers.

// RESEARCH

The Graduate School's ambition is to stimulate and guide cutting-edge research on some of the most crucial challenges faced by modern knowledge-based societies.
These include:
individual, socio-structural and institutional conditions for life-long learning;
the societal, economic and institutional sources of variability (and inequality) in cognitive development and educational attainment;
the ability, opportunity and incentives to constantly update knowledge and skills in an increasingly uncertain economic environment and labour market;
the design of suitable social and political institutions promoting the development of key production factors such as human capital in a globalising economy; and
democratic political institutions promoting the effective production of collective goods and democratic accountability in complex multi-level systems.
Modern economies compete for the most creative minds domestically and internationally. Schools and universities help people to develop the skills necessary for them to compete in the labour market. But people's choices about education and their opportunities in the labour market are influenced by a large number of social, economic and political factors. Problems of this nature cross the traditional boundaries of academic disciplines. The Graduate School therefore brings together sociologists, psychologists, educational scientists, political scientists, economists, demographers and statisticians from across two faculties of the University of Bamberg (Social Sciences, Economics and Business Administration and Human Sciences and Education).
The Graduate School is organized around four Pillars: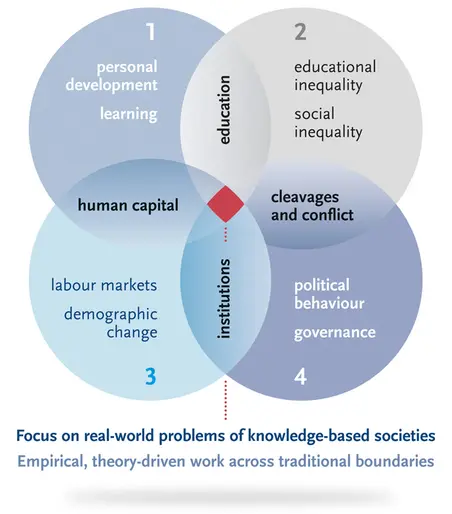 While each of these Pillars has its own substantive focus, they are also interdisciplinary and linked:
substantively, by an interest in the challenges facing open knowledge-based societies;
theoretically, by approaches focusing on the interaction of structures and human agency, with an emphasis on institutions;
methodologically, by a shared commitment to theory-driven and empirically rigorous approaches;
educationally, by a shared experience of the benefits of a structured yet flexible programme.
........................................................................................................................................................



// FEATURES

The Graduate School offers a highly attractive place for doctoral and postdoctoral researchers wishing to pursue research, and receive tailored training, on these and related issues.

Our members benefit from:
the pooled expertise of a number of nationally and internationally recognised sociologists, psychologists, educational scientists, political scientists, economists, demographers and statisticians;
a highly research-active environment with an outstanding track record of interdisciplinary projects;
a well-established network of high-quality national and international collaborations;
a structured yet flexible qualification programme;
close and comprehensive supervision and mentoring
Image Credits: © Bamberg Graduate School of Social Sciences