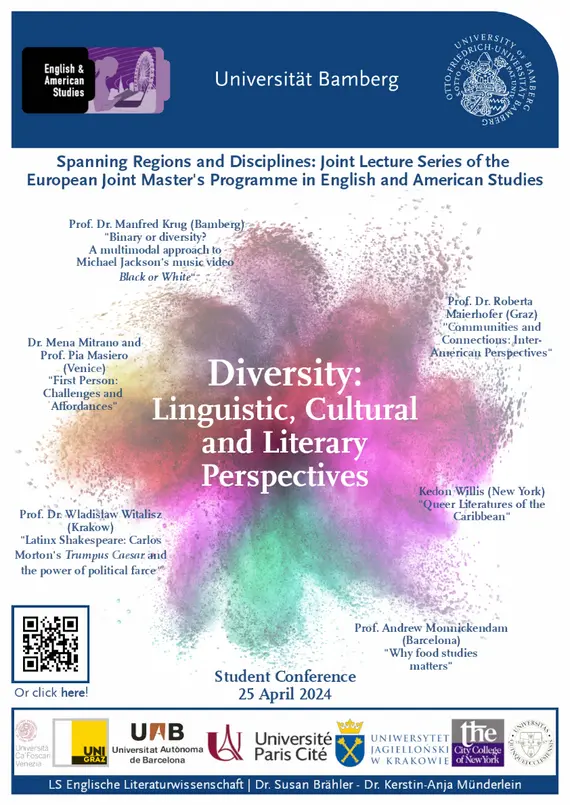 We would like to invite all students of English and American Studies at the University of Bamberg to join the first instalment of a new transdisciplinary series of yearly online lectures offered jointly by the partner universities of the European Joint Master's Programme in English and American Studies.
The first edition of our lecture series will deal with the topic of diversity from linguistic, cultural and literary perspectives. It is an outstanding opportunity to interact with a group of international students and to get to know professors from our partner universities. The course will consist of four online lectures taught between November 2023 and February 2024 and a hybrid student conference on Thursday, 25 April 2024. Please see the programme below.
Programme
Lectures
Wednesday, 8 November, 6:00-8:00 pm: Prof. Dr. Manfred Krug, Bamberg
"Binary or diversity? A multimodal approach to Michael Jackson's music video Black or White"
Wednesday, 13 December, 6:00-8:00 pm: Prof. Andrew Monnickendam, Universitat Autònoma de Barcelona
"Why food studies matters"
Wednesday, 10 January, 6:00-8:00 pm: Prof. Dr. Roberta Maierhofer, Karl-Franzens-Universität Graz
"Communities and Connections: Inter-American Perspectives"
Wednesday, 7 February, 6:00-8:00 pm: Dr. Mena Mitrano and Prof. Pia Masiero, Università Ca' Foscari Venezia
"First Person: Challenges and Affordances"
Student Conference on Thursday, 25 April 2024
This is a hybrid event that can either be accessed with the Zoom link above or visited in person at MG2/00.10. A separate programme with all panels and speakers will be published shortly before the event. Please find the Call for Papers above.
Keynote lecture: Thursdsay, 25 April, 9:15-10:15 am: Prof. Dr. Wladyslaw Witalisz, Uniwersytet Jagiellonski w Krakowie
Title: "Latinx Shakespeare: Carlos Morton's Trumpus Caesar and the power of political farce"
Thursday, 25 April, 1:30-2:30 pm: Kedon Willis, City College of New York
"Queer Literatures of the Caribbean"