Spinoff Companies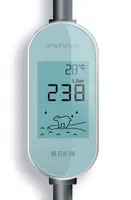 Successful university spinoff companies are an indicator of the practical relevance of the research. Moreover, they are important source of innovation, an effective means to make research results applicable to practice, and a excellent source for new, relevant research questions. We are proud of the two spin-off companies that emerged from our work, namely Amphiro AG and BEN Energy AG.
Amphiro
Amphiro AG develops and markets energy-autonomous, miniaturized sensors for measuring water volume and temperature. The sensors utilize energy harvesting techniques to generate energy for operation from the water flow. The components extend the functionality of bathroom and kitchen faucets by integrated consumption and temperature displays.
BEN Energy
BEN Energy AG develops and sells Smart Metering and Smart Grid software for energy providers. Its core competency is the behavioral science based use of consumption data for improving customer interaction. The product portfolio includes Smart Metering portals, efficiency mailings, and data analytics tools for energy consultancy. More than 20 utilities are already among BEN's customers.
Support for Founders
The Energy Efficient Systems Group supports young founders in their startup and growth phase – for example with respect to applications to scholarships, business plans, and coaching.