Prof. Dr. rer.-pol. Dipl.-Ing. Alexander Pflaum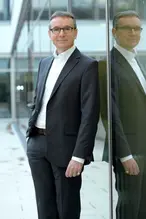 Chairholder
Contact
Feldkirchenstraße 21 / room 00.53
Phone: +49 (0) 951 863-1771 (secretary's office)
Fax: +49 (0) 951 863-1777
E-Mail: bwl-scm(at)uni-bamberg.de
Consultation Hours
By appointment only
Curriculum Vitae
Prof. Dr. Alexander Pflaum studied electrical engineering at the University of Erlangen-Nuremberg FAU and wrote his doctoral thesis on "RFID and Supply Chain Management" at the Faculty of
Business Administration at FAU in 2001. He is working for the German Fraunhofer Society since 1995. Since May 2016 he is the director of the Center for Supply Chain Services at the Fraunhofer Institute for Integrated Circuits IIS in Nuremberg, Germany. In his scientific career he is director of the Chair for Business Administration especially Supply Chain Management at the Otto-Friedrich-University in Bamberg. He is working on the economical evaluation and implementation of innovative information and communication technologies, on technology-based Service Engineering as well as on the development of distributed application systems using smart object-technologies in logistics and Supply Chain Management. He is also the founder of the Competence Center for Business Models in the Digital World in Bamberg. He speaks frequently at national and international conferences, works actively in standardization processes and has authored and edited several books, book chapters and studies. He is also an active reviewer and author for international journals.
Research Interests
Economical evaluation

and implementation of innovative ICT technologies

Technology-oriented service engineering

Development of distributed application systems using smart object technologies
Publications
Please find an overview of publications here.