Isabel Fischer, M.Sc.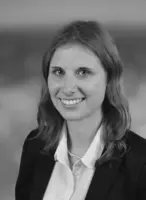 Research Associate
Contact
Feldkirchenstraße 21 / room 00.50
Tel.: +49 (0) 951 863-1774
E-Mail: isabel.fischer(at)uni-bamberg.de
Consultations Hours
By appointment only
Responsibilities
Practical seminar Supply Chain Management and Digitalization
Practical seminar Principles of Service Engineering
Advanced Seminar Product and Service Innovation for Supply Chain Management
Lecturer reviews and letters of recommendation
Learning agreements and approvals
Curriculum Vitae
Isabel Fischer completed her bachelor's degree in business administration at the Baden-Württemberg Cooperative State University in Stuttgart in cooperation with Robert-Bosch GmbH. In this context, she experienced internships at various locations in Germany and the USA. Afterwards, she completed her master's degree with a focus on supply chain management and innovation management at the University of Bamberg, Germany, and at the Åbo Akademi University in Turku, Finland. During this time, Isabel worked at Robert Bosch GmbH, at the Chair for Supply Chain Management and at the Fraunhofer Institute as a student research assistant in departments and projects focused on innovation and transformation.
Publications
Please find an overview of publications here.