Orders and documents
Regulations for the study program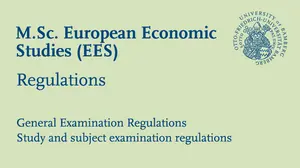 The formal framework for the Master's program in European Economic Studies (EES) is provided by
These regulations define, among other things, the modules to be taken in the module groups (incl. ECTS information).
Detailed descriptions of the individual modules can be found in the module manual for the program.
---
Module Manuals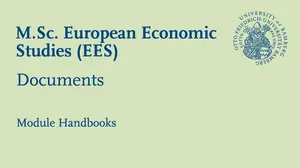 The module handbook contains detailed descriptions of the individual modules, including form of instruction, learning objectives, content requirements, frequency of offerings, and form of examination.
Current and older versions of the module manual
---
Curriculum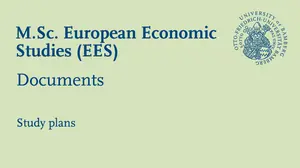 A recommendation of which modules should be completed in which semester can be found below. Please note that this is not a mandatory requirement.
Regarding a detailed study recommendation with regard to the specialization offered according to career goals, the EES specialist study advisor will be happy to help you.
---
Other documents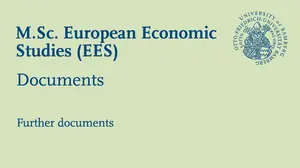 The following documents and forms are available on the website of the

EES examination board

Form for the recognition of examination results

Notification regarding the conversion of foreign grades into the German grading system

Notification regarding BaföG certificates
---