Choosing a place to study is a decision made based on numerous factors. First and foremost, there are considerations dealing with a specific university and its particular academic programmes and options. However, topics like university and city services, public transport, recreational opportunities, housing situation and costs of living are all additional factors which influence broader decisions about places to study.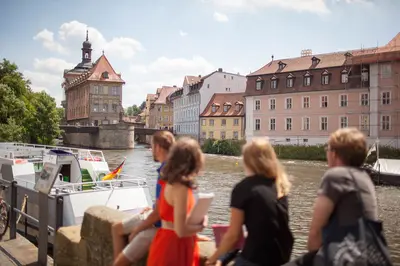 With its approximately 79,000 inhabitants, Bamberg will make it easy for you to settle in and get acquainted the city. Bamberg's old city was added to the UNESCO World Heritage register in 1993, and the city is currently experiencing what can only be described as a boom. Since the 2009/10 winter semester, the student body has grown from approximately 9,000 students to 13,000 enrolled in the 2017/18 winter semester. This means that every sixth person in Bamberg is a university student, and this in turn means that Bamberg is a very young city with a lot to offer.
Bamberg's location in the Regnitz valley, the city's seven hills, the Hain park with its river-swimming facilities, the close proximity to the "Franconian Switzerland," the Haßberge Hills, the Steigerwald Nature Park and the Upper Main River valley all add to the city's appeal.
The University of Bamberg was founded in 1647 and is one of the oldest universities in Bavaria. University facilities are located throughout the city, and many of them are found directly in the city centre.
Bamberg's Delights
As a university town, Bamberg has a lot to offer on a night out. In addition to the numerous pubs, bars and clubs, the city's many cafes provide the perfect setting for a short break – or even an entire afternoon spent with friends and acquaintances.
No other region in Germany is home to more breweries than Bamberg and the surrounding area (further information: Beer Country).
There are no less than 10 breweries located directly in Bamberg, and the Upper Franconian Genussregion (further information in German: Gourmet Region) boasts over 200 more – the world record for brewery density!
Each brewery of course has its own pub or Keller ("cellar", or Franconian beer garden) whit its own particular flair. Each autumn, breweries organize festivities for the unveiling of their bock style beer, a stronger, seasonal brew. And in addition to the brewery beer gardens and pubs, there is also a tremendous selection of restaurants ranging from Italian to Indian and from Mexican to Thai.
---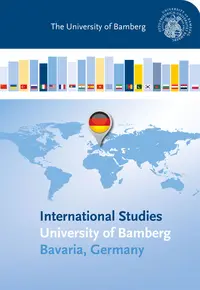 Would you like to know more?
Take a look at our magazines!
Our uni.vers publications include further information on the University of Bamberg and its academic programmes, as well as other useful information about the city of Bamberg.
The featured issue of the magazine is in English, and it specifically addresses international students' questions and concerns.
Welcome to the University of Bamberg (Download

(3.6 MB, 21 pages)

)