Public and private architecture in Bukhara in an interdisciplinary view: Perspectives of building archaeology, heritage conservation sciences and the history of Islamic art
With its large number of individual monuments as well as unique historic districts, the UNESCO-protected Old City of Bukhara, Uzbekistan, is one of the most important historical urban centers in central Asia. The Denkmal und Kontext in Buchara (Monument and Context in Bukhara) research project, a German-Uzbek joint undertaking with Austrian participation, used an interdisciplinary approach to explore these unique buildings.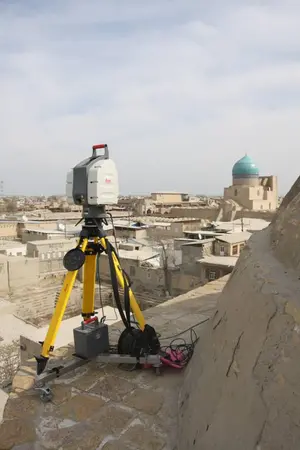 The buildings of the Khoja Zainuddin district are particularly outstanding. In this area, there are a number of well-preserved historical structures, including the architecturally significant Khoja Zainuddin Mosque, located in the heart of the district.
Several project units worked on questions pertaining to structural history, art history, and local history. Developing strategies for building preservation in Bukhara was a further goal behind scientific analysis. State-of-the-art technology, such as 3D laser scanning, were used to obtain detailed information about the present state of the buildings and to learn more about the buildings' history.
The analysis of wooden structures played an important part. In this context, perspectives for dendrochronological methods were systematically explored. Stylistic comparisons to other buildings lend insight as to the architectural significance of the mosque, the buildings adjacent to it, and for a larger history of architecture in Central Asia during the 16th century. Through the evaluation of archival documents, the team attempted to determine the original functions of the buildings in the Khoja Zainuddin complex and their roles in the social fabric of the city.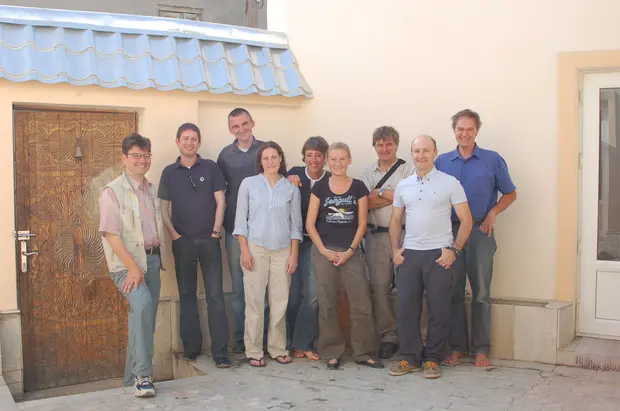 Publications
R. Drewello, B. Freitag and Ch. Schlieder: "New Tools for Ancient Ruins"(2.8 MB), German Research 1/ 2011. The article deals with the digital monument archive that was used for documentation during the project.
P. Chamberlain, R. Drewello, L. Korn et al.: "Construction of the Khoja Zaynuddin Mosque: Use of Animal Glue Modified with Urine" (1.0 MB), in: Archaeometry 53 (4)/ 2011.
J. Badr und M. Tupev: "The Khoja Zainuddin Mosque in Bukhara", in: Muqarnas 29 (2012), S. 213-243.
M. Tupev: "Die Madrasa Mir-i Arab: Architektur und Repräsentation in Buchara unter Ubaydallah b. Mahmud Sultan", in: L. Behzadi et al. (eds.): Bamberger Orientstudien (Bamberger Orientstudien 1), Bamberg 2014, pp. 517-573. The article presents a thorough analysis oft he building from the perspective of architectural history, in the context of the political history of Bukhara during the early Abulkhairid khanate.
M. Tupev: "All the King's Men: Architectural Patronage in Bukharan Madrasa Buildings from the 1560s", in: M. Ritter et al.: Beiträge zur Islamischen Kunst und Archäologie 5, Wiesbaden 2015, S. 28-56.
L. Korn, Art. "Bukhara, art and architecture", in: Encyclopaedia of Islam, THREE. Edited by: Kate Fleet, Gudrun Krämer, Denis Matringe, John Nawas and Everett Rowson. Leiden 2019 (Brill Online: https://referenceworks.brillonline.com/browse/encyclopaedia-of-islam-3).