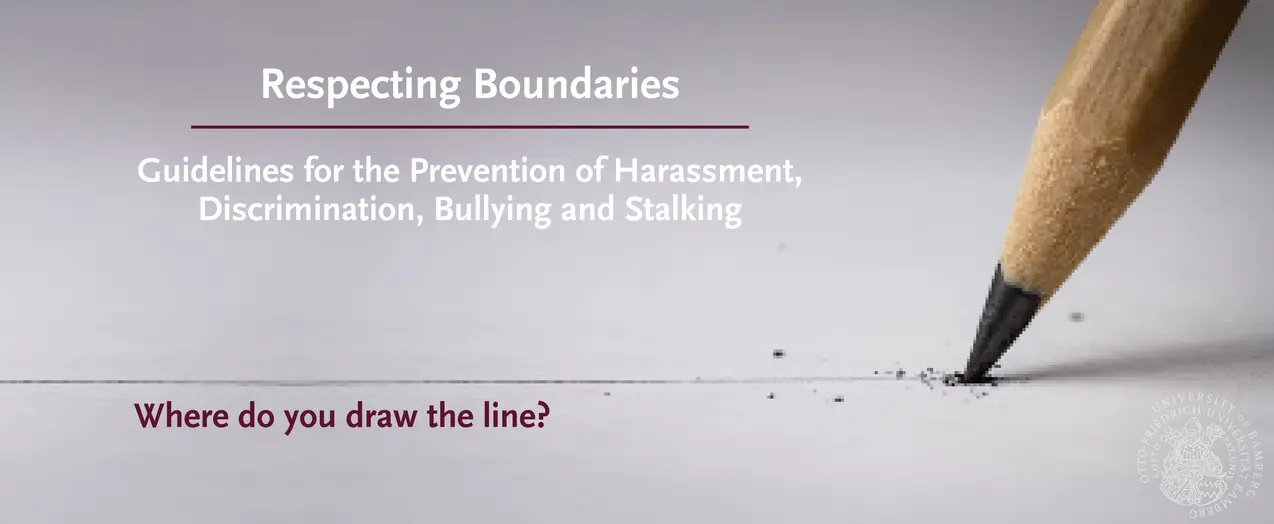 ---
Respecting Boundaries
The University of Bamberg has created guidelines for preventing harassment, discrimination, bullying, and stalking in order to maintain an open, interactive, and communicative working environment at the university. It outlines what any member of the university can do if they feel their boundaries have been crossed.
Harassment, discrimination, bullying, stalking, or any other kind of disrespect to another person's boundaries is not tolerated whatsoever and has no place at the university.
Those who are or have been impacted by such instances can always contact the Equal Opportunities Officer, the University-wide Women's Representative, the Women's Representative of their respective faculty, the Staff Council, the Office for Students with Disabilities, the legal department, or any other person they trust. All offices are obligated to treat your concerns confidentially.
More information is available at Grenzen Wahren (in German, only available via the Intranet)
The legal guidelines for these measures are outlined in the Guidelines for Respecting Boundaries.
---
Sexual Harassment
NO means NO! - Practicing Respectful Interactions
The following information was put together by the Women's Office of the University of Bamberg based on the results of the committee on sexual harassment at the state conference of women's representatives and equal opportunity officers of Bavarian universities (Arbeitskreises sexuelle Belästigung der Landeskonferenz der Frauen- und Gleichstellungsbeauftragten bayerischer Universitäten).
You can also find all of the following information in the flyer "Nein heißt Nein" (only available in German).