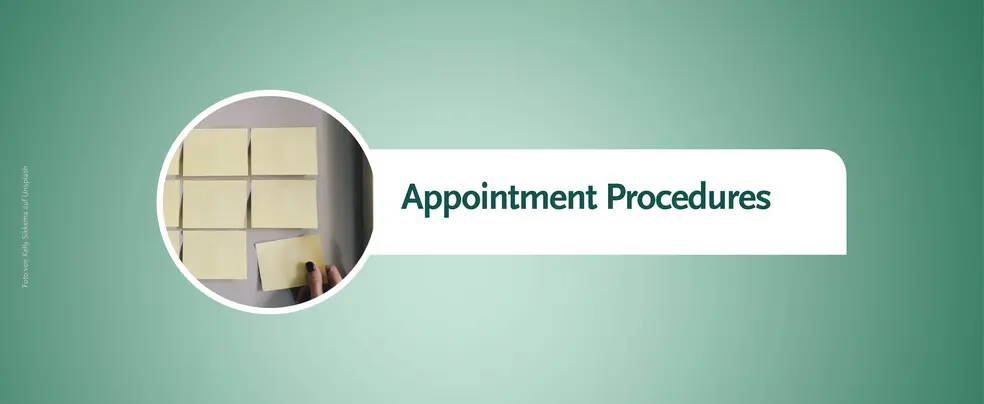 Appointment Procedures
Appointment procedures are the central element to shaping the future of a university. Personnel involved in appointment procedures aim to find the best person for an advertised position.
At the University of Bamberg, the appointment procedure regulations (in German) and the legal framework set a high standard for appointment procedures, also in regard to equal opportunities for all applicants.
When the standard is equality, transparency is a critical characteristic of the appointment procedure. For this reason, the University of Bamberg provides guidlines and additional information on the development of a transparent appointment procedure (in German).
The Active Recruitment of Women
In addition to transparency, the active recruitment of female researchers is an essential element of gender-equality work. To this end, the networks listed below are important resources. Our list of gender-related networks and databases may also be helpful.
Recruitment Networks
/femconsult (Germany)
/femconsult is a resource provided by the Center of Excellence Women and Science (CEWS). This database of female researchers contains current qualification profiles for more than 3,000 female researchers from German-speaking countries who have completed their doctorate or habilitation. They have focuses in all disciplines and work in universities and non-university research institutions, industries, and businesses. Utilizing this website's database and search functions is free of charge. The homepage is available in English; however, the search function and additional information are only available in German. They provide an English guide on how to register.
femdat (Switzerland)
femdat is a national Swiss database for female researchers and experts in various fields of science, politics, and business. It places female researchers and experts from Switzerland in management positions within science and research. The aim of the database is to assist in the search for and placement of female experts, even beyond the research field. Utilizing this website's database and search functions is free of charge; however, the website is only available in German.
Database of Habilitated Women (Austria)
The database of women holding a postdoctoral academic qualification is managed by the University of Graz through the Office of the Working Group for Equal Opportunities. This website's database and search functions are free of charge and requests are carried out by the office of the working group. The webpage is available in English; however, the datasheet that must be filled out in order to be listed in the database is only available in German.