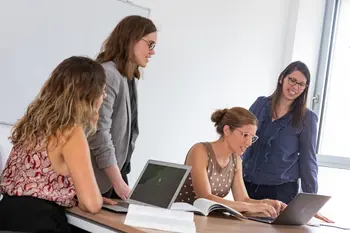 The function and tasks of Women's Representatives at Bavarian Universities are defined by article 22 in the Bavarian Higher Education Innovation Act of 2023 as follows:
"At the universities, officers for the equality of women in science and the arts shall be appointed to ensure that disadvantages for female scientists, artists, female teaching staff and students are avoided.[...].
In the performance of their duties, the universities shall promote the actual implementation of equal rights for women and men and shall take this into account as a guiding principle. They shall work towards the elimination of existing disadvantages. In order to implement equal rights, preference shall be given to women, taking into account the priority of aptitude, ability and professional performance (Article 33 (2) of the Basic Law, Article 94 (2) of the Constitution). The aim of the funding is to increase the proportion of women at all levels of science and art."
(Art. 22 para. 1 & 3 of the Bavarian Higher Education Innovation Act)
Furthermore, §30 and §31 of the Constitution of the Otto Friedrich University of Bamberg regulate the election, term of office and tasks of the University or Faculty Women's Representative.
The Women's Representative of the University is essentially responsible for general advice on women-specific matters, the advancement of women, public relations, and monitoring.
In contrast, for suggestions, complaints or questions within the WIAI faculty, we, the WIAI faculty women's representatives, are the first point of contact. You can reach us at any time by email at wiai.frauenbeauftragte(at)uni-bamberg.de