Joint Research Workshops and Seminars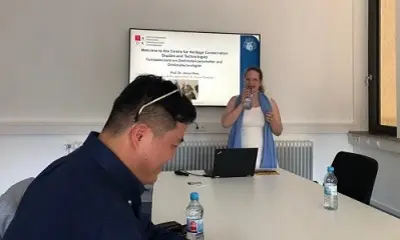 The following research workshops and seminars were held by professors of the BRIDGES NETWORK:

Further information available:
Click here for seeing an update on the project from March 2020.
Dr. David Tittensor (Deakin University), Muslim Aid: Exploring the Ethics of Giving in Islam (29.10.2019 at University of Bamberg)

Presently the vast majority of aid from Muslim donor countries goes to fellow Muslim nations, and it is often the case that the recipient country is not the most in need. Therefore, this paper will consider the flow of Islamic aid and the issue of religious bias, and explore the theology and ethics of giving in Islam (zakat and sadaqa). This will be done through exploration of key verses, such as 9:60, by both historical and contemporary figures in Maududi and al-Qaradawi amongst others, on the application of zakat and sadaqa. Concomitantly, the paper will also explore fatwas issued in relation to humanitarianism and how these align with majority and minority readings of 9:60 that state zakat cannot and can be given to non-Muslims respectively. The aim of the paper is to assess whether there is an opening to have Islamic aid flows better integrate with wider aid sector.


Dr. Michiko Weinmann (Deakin University), Symposium about "Pioneering Teacher Education" and "Teacher Education and Teacher Mobility in the Global Age" (18.11.2019 at University of Bamberg)

Dr. Michiko Weinmann (Deakin University), Traversing multilingualism and the 'monolingual mindset': A critical perspective on Languages education in Australian schools (18.11.2019 at University of Bamberg)

The lecture will provide an overview of the national context and state of play of Languages education in Australia, commenting on key policy and curriculum shifts in the recent decades, including the implementation of a national Australian curriculum – Languages. By drawing on selected examples from recent research projects, the talk aims to illustrate the complexities inherent in Languages education debates in Australia, and how these are articulated in teacher and student perspectives, media representations, and discussions around the provision of 'quality' languages programs.

The talk seeks to provide a current commentary on the implications of some of the challenges that the Australian multi/monolingual context poses for languages education and teacher education, including concerns around language teacher recruitment and retention, high student attrition in languages classes, but also more complex concerns like identities of languages teachers (of different languages) and their students, and how powerful discourses of nation, geography, ethnicity, teacher 'quality' and 'professionalism' play out in the staffroom and in classrooms.

It will conclude by providing some theoretical provocations, challenging the dichotomisation of 'lingualisms' towards a more constructive approach that acknowledges the multiplicity language users, irrespective of whether they speak one or many.