Language Tandem Programme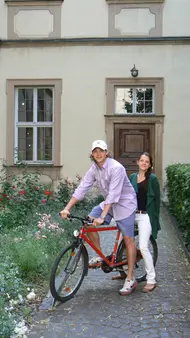 With a language learning tandem you have the opportunity to practise a language and explore a country's culture with native speakers of (one of) the language(s) you are learning.
You can deepen and expand your language skills through conversation and/or joint activities, and also have the opportunity to experience the cultural characteristics and customs of other countries first-hand.
The language tandem pairs are advised on ways of organising the tandem to ensure that learning in tandem is effective. At your consultation appointment, you can talk about the best ways to conduct the tandem sessions and get tips on materials and goal-oriented learning.
You also have the option of taking advantage of individual language learning counselling as part of the language tandem programme. This serves to determine your individual learning goal in the foreign language and to develop strategies to achieve that goal.
Participation in the language tandem programme is subject to the following requirements:
completion of at least A2 level in the target language

time for one session/week
Interested? All you have to do is complete the form below!
Please note:
Due to organisational issues you will only receive feedback if we have been able to find a language tandem for you.
Registrations are stored for 6 months at a time. If you have not heard from us after this period but are still interested in a language tandem, please complete the application again.