The current delegation of 2019/2020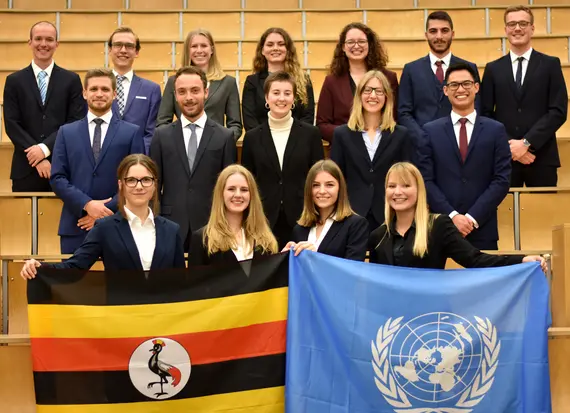 At the world's biggest simulation conference National Model United Nations (NMUN) 2018 in New York we, the delegation from the University of Bamberg, have the honor to represent the Republic of Uganda.
The Republic of Uganda (or in Kiswahili, Jamhuri ya Uganda) is a landlocked country in Eastern Africa with 43 million inhabitants. Being located south of South Sudan it also borders with Kenya to the east, Tanzania and Rwanda to the south, and the Democratic Republic of Congo to the west. The "Pearl of Africa" is well-known for its breath-taking and diverse nature which international tourists increasingly come to experience in the country's nine national parks and six game reserves.
Four years after it gained independence from its former colonizer, the British Empire, the Republic of Uganda experienced two decades of authoritarian rule until 1986, leaving it seriously hit by severe violations of human rights, continuing conditions of social unrest, and economic decay. Since then, the country's road to democracy has been considerably complicated by riots, protests, and corruption. Although improvements increased economic and social conditions, especially in the health and educational sectors, the country remains one of the world's poorest nations.
The Republic of Uganda was granted official membership to the United Nations on 25 October 1962. In 2009 and 2010 it held a non-permanent seat on the United Nations Security Council. During its presidency in July 2009, the country initiated debates over conflict resolution and peace-building measures in post-war nations. Furthermore, it contributed 6,200 soldiers to the African Union Mission in Somalia (AMISOM). The Republic of Uganda is Member of the African Union (AU) as well as the East-African Community (EAC).
The country's flag was hoisted for the first time on 9 October 1962, two years after founding the Ugandan People's Congress. Its colours symbolise the people of Africa (black), sunset (yellow), and the brotherhood of all humans (red). In the middle the national symbol is shown, the black crowned crane.
We are excited to represent the Republic of Uganda at NMUN 2020 in New York.
---
On the following pages you can find out more about us and our progress on our way to New York
You can also visit us on
to get further impressions on our preparation and conferences.
All former Delegates of Bamberg can stay in contact at the Facebook alumni group.