The current delegation of 2017/18
At the world's biggest simulation conference National Model United Nations (NMUN) 2018 in New York we, the delegation from the University of Bamberg, have the honor to represent Malaysia and Kuwait.
Malaysia is a South-East Asian country and consists of two geographically separated parts: The Malaysian peninsula in the West and the northern part of the island of Borneo in the East. As a founding member of the Association of Southeast Asian Nations (ASEAN), Malaysia embodies modernity, security and economic strength. Furthermore, the elective monarchy is a long-standing trading partner for Germany and an important representative of the Islamic world. Malaysia is an engaged member state of the UN and is working actively towards an improved human rights situation and global disarmament. Our pleasure to represent Malaysia at NMUN can be expressed through the Malaysian motto "Bersekutu Bertamba Mutu" – "Unity is strength".
Additionally, it is a great honor for us to represent Kuwait in the Security Council. The council is of great international importance because it can adopt legally binding resolutions. In 2018 and 2019, Kuwait will be a non-permanent member and will work on international security problems. Located on the Persian Gulf, Kuwait's large oil reserves (est. 8% of the global reserves) grant it relative financial strength. By 2035, the country is aiming for an economy that is fully independent of oil. Instead, Kuwait wants to rise to a financial, trade and tourism center in the region. While Kuwait's relations with the neighboring Iraq are fraught, it enjoys strong ties with the USA.
We are delighted to represent Malaysia and Kuwait at the simulation conference NMUN 2018 in New York.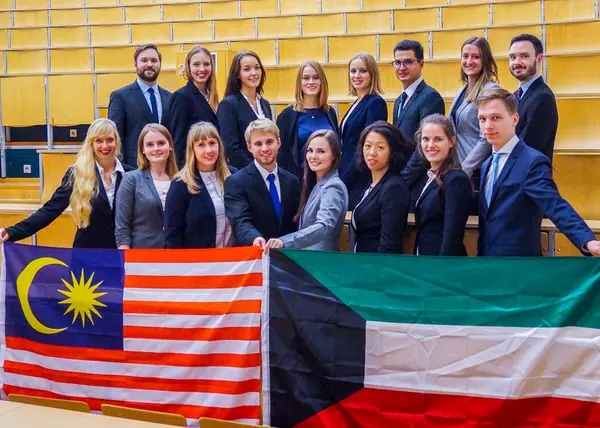 On the following pages you can find out more about us and our progress on our way to New York.
Since 2003 the Bamberg Delegation participates at NMUN NYC:
For further information please have a look at
You will find some photo galleries showing our preparation for conferences throughout the homepage.