Structure and Curriculum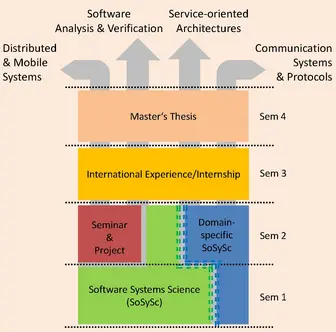 The masters programme in International Software Systems Science (120 ECTS) offers advanced graduate level studies (Bologna 2nd cycle) that build on a prior six semester bachelors degree in Software Systems Science (180 ECTS) or a closely related field of study. The programme offers the experience of an optional study abroad and/or an optional industrial internship in an international context. Upon successful completion, students have acquired the minimum 300 ECTS required for a continuing 3rd cycle post-graduate training following the Bologna scheme.
The study programme provides wide-ranging elective options in five functional or thematic module groups A1-A5 described below. Within these module groups you may select an area of specialization in line with your own interests in four fields of Software Systems Science:
S1: Distributed and Mobile Systems
S2: Software Analysis and Verification
S3: Service-oriented Architectures
S4: Communication Systems and Protocols
You can form a degree specialisation by selecting the masters thesis (module group A4), one project or one seminar (in module group A3) and elective modules of at least 18 ECTS (in module groups A1, A2) in your desired focal area S1-S4. Your area of specialisation will be documented in your final MSc degree certificate.