M.Sc. International Software Systems Science
Programme Abstract
Starting with the summer semester 2015, the Faculty of Information Systems and Applied Computer Sciences offers the fully english-taught masters degree programme International Software Systems Science.

This graduate level programme (Bologna 2nd cycle education) is designed to build on from a three year bachelors degree in Software Systems Science or an undergraduate degree (180 ECTS) in a closely related area such as, but not limited to, Informatics, Computer Science, Computer Engineering or Software Engineering.
This masters degree programme satisfies the guidelines laid down by the German Kultusministerkonferenz (Standing Conference of the State Ministers of Education and the Arts - KMK) on the requirements for entering doctoral studies (3rd cycle of the Bologna scheme).
The degree programme at a glance
Short Profile of the Degree Programme

| | |
| --- | --- |
| Examinations | Continuous assessment |
| Title | Master of Science (M.Sc.) |
| ECTS-Points | 120 |
| Regular Programme Duration | 4 semesters |
| Programme Start | every semester |
| Type of Studies | Full-time and part-time possible |
| Language of Instruction | English |
| Tuition Fees | None (Student Union membership compulsory) |
System Accreditation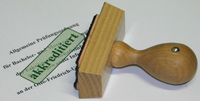 Currently, the University of Bamberg is in the process of system accreditation. While at the end of 2016 the procedure began formally with the confirmation of the admission requirements, the University is currently close to completion: At the end of February 2018, the University of Bamberg was commited the second time by a group of experts commissioned by the accreditation agency ACQUIN. As a result, the expert group honored the quality management system of the University of Bamberg with a recommendation to award the seal of the Accreditation Council. The official result and any conditions are expected during the summer months. Further information can be found in the QM ServiceNet.
Online Forum International Software Systems Science