Hardware, Software, Peripheral Equipment
Hardware Support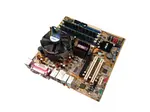 If you are having problems with your computer's hardware, if you would like to upgrade your computer, or if your printer is only producing smeared streaks, then the IT-Service's hardware support team is just the contact you need.
You will receive competent assistance with all hardware-related questions and problems as they relate to your computer workstation, printers, scanners and any other peripheral devices.
[I'd like to know more! - Continue reading ... in German]
Software Support
The IT-Service's software team provides all university computers with an integrative software image and offers support and assistance with all your questions and problems concerning the software installed on your computer.
Our staff will answer any questions you might have about software and software operations and would be glad to install any new programs on your computer.
By default, the university software image includes German versions of MS Windows and MS Office, but English versions of the programs are also available upon request.
[I'd like to know more! Continue reading ... in German]
Hardware and Software Procurement

The IT-Service provides a standardised hardware and software configuration for all computers and peripheral equipment that can be customised to meet the needs of individual organisations, departments and administrative units.
The IT-Service's hardware and software procurement staff can help you select and order data processing equipment and software that meet your specific functional and language-related requirements.
[I'd like to know more! Continue reading ... in German]