Evaluating, Examining
The IT-Service of the University of Bamberg maintains an EvaSys server for evaluation and monitoring of teaching and an EvaExam server for examinations. Both products are developed by Electric Paper Evaluationssysteme GmbH and have a lot in common.
EvaSys for Surveys and Teaching Evaluations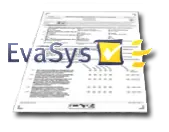 EvaExam for Exams

EvaExam can support you in all steps of the exam process: You can use it to create an exam paper, prepare it for printing in sufficient quantity and have the results automatically scanned and evaluated after the exam.
[I'd like to know more! - Continue reading ... in German]