English Language Education
A very warm welcome to the world of TEFL – Teaching English as a Foreign Language!
Herzlich willkommen auf den Seiten der Englischdidaktik!
TEFL Team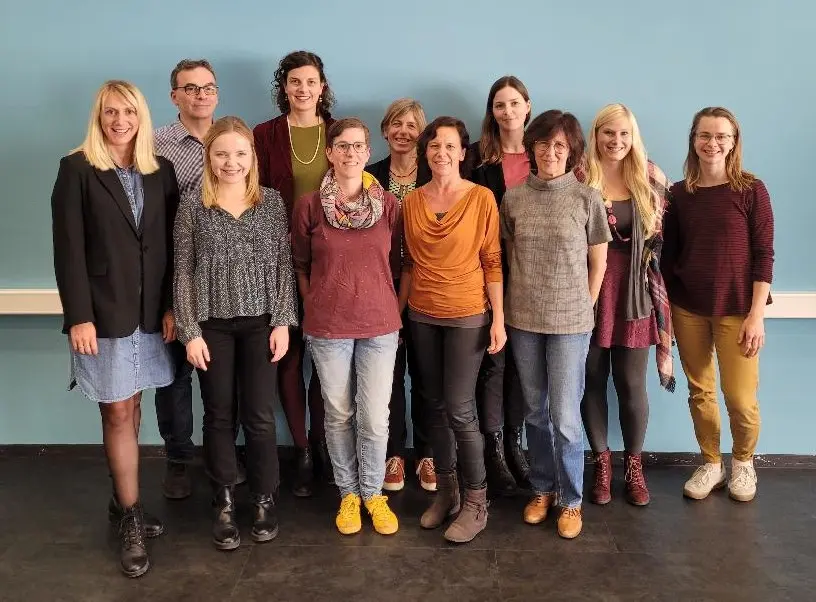 From left to right: Nicole Gumbrecht, Marcus Saller, Regina Grund, Katharina Beuter, Katrin Bauer, Cordula Schwarzl, Birgit Kraus, Theresa Summer, Isolde Schmidt, Michelle Zirkel, Carmen Herrmann (not pictured: Katrin Landwehr, Lena Meyer, Andreas Müller, Heidi Schmitt)
The TEFL team at the University of Bamberg is subdivided into two organizational units. However, we represent one single unit regarding the subject and content of TEFL.
TEFL is an academic discipline concerned with the rationale, goals, content and methodological approaches as well as the evaluation of English learning in schools. The analysis of teaching and learning processes in English lessons is of central importance. The courses in the field of English language education cover the wide range of the subject: from the issue of early English teaching, the teaching of literature, language and media, intercultural and motivational issues, to seminars preparing for and accompanying internships, which focus on questions of lesson planning and teaching in practice.
Navigating our website (please note the menu on the left):
In the Studies subpage, you find information on current courses, a guide through your studies of TEFL as well as information on internships and oral exams. In addition, a collection of previously set state examination topics for the various school types is provided there.
If you click on the team subpages, you will find information about the lecturers, their office hours and publications.
If you have any further questions, please do not hesitate to contact Dr. Isolde Schmidt, subject-specific advisor at the Institute for English and American Studies (especially 'Didactics' of English language and literature).