Studies
Studying Archaeology in Bamberg
Bamberg is the ideal place for the study of Archaeology. The Institute of Archaeology, Heritage Sciences and Art History (IADK), founded in 2000, combines heritage and cultural sciences in a unique way. Thanks to the great variety of disciplines and their close collaboration in research and teaching Bamberg has become a center of interdisciplinary exchange.
In Bamberg, following completion of the bachelor of arts (BA) degree in Archaeology, it is possible to continue your studies in the Medieval and Post-Medieval Archaeology master's degree programme.
Bachelor's Degree Programme
In the highly diversified Archaeology bachelor's degree programme, you are presented with foundational knowledge and skills pertaining to archaeological theory and methodology. Our curriculum includes courses on the following subjects: Medieval and Post-Medieval Archaeology; Prehistoric and Protohistoric Archaeology; Archaeology of the Roman Provinces; Data Processing in Geoarchaeology; and Islamic Art and Archaeology.
Master's Degree Programme Medieval and Post-Medieval Archaeology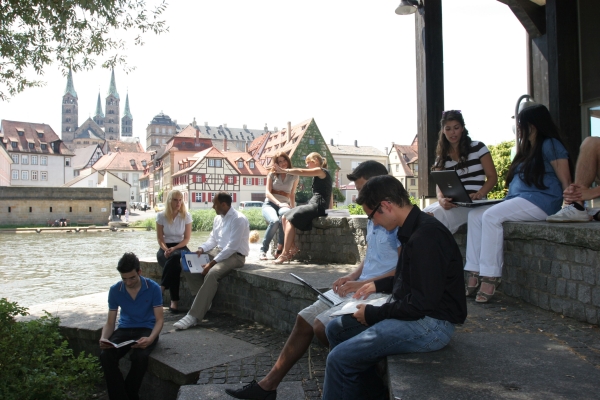 Building on the foundations of the bachelor's degree, the master's degree programme combines the core subject field of Medieval and Post-Medieval Archaeology with a range of required electives.
The master's programme presents students with a well-founded, holistic curriculum that includes valuable insights into neighbouring disciplines. This modern, interdisciplinary degree programme guarantees that you are qualified not only for subject-specific research positions, but also for related fields of activity such as museums or the preservation and care of field monuments. Additionally, there are numerous occupational prospects in fields outside of medieval and post-medieval archaeology (e.g. in cultural administration or in publishing). The degree programme qualifies graduates to pursue doctoral studies and subsequent academic careers.
By clicking on the menu items on the left, you can access further information on both bachelor's and master's degree programmes, and on courses currently offered. Please don't hesitate to send us an email at ingrid.hoesch(at)uni-bamberg.de with any other questions you might have.