The University offers with its various facilities many ways to get involved outside of your studies and to use the services.
We would like to present a selection here.
---
Intercultural, Political and Social Committment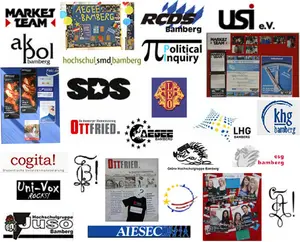 At the University of Bamberg, there is no shortage of extracurricular clubs and associations in which you can get involved. They range from working groups that are closely associated with specific academic subjects to student religious associations and on to student chapters of trade and labour unions and political parties.
Additionally, the university's Student Council provides ample opportunity to get involved in policy and representation at both the university and academic faculty levels. The council provides support for the student body and is responsible for representing students' concerns within the university and faculties.
Overview of student groups (in German)
---
Tandem Programme
Cross-cultural understanding, the integration of foreigners and hospitality are things that are often referenced in conversation, and the International Office's Tandem Programme provides you with the opportunity to make a personal contribution to these popular concerns.
As a participant, you can help foreign students get settled in Bamberg and become better acquainted with the university. And conversely, you'll have the chance to learn about the students' home countries and cultures.
---
Music
The University of Bamberg is home to numerous musical ensembles that are always on the lookout for qualified, committed musicians. The musical spectrum stretches from the university choir and orchestra all the way to a big band and the university jazz-pop combo.
The individual groups are coordinated by the Music Education department.
Overview of university musical ensembles (in German)
---
uni.fest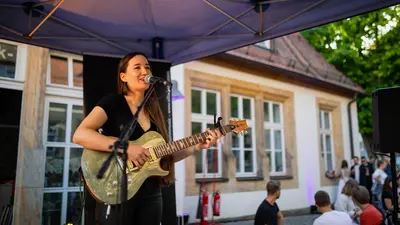 Every year on the first Friday in July, students, staff and alumni meet to celebrate together at uni.fest. It is a place to celebrate and exchange together. The programme with music, theatre, sports and dance performances, workshops and a children's programme is provided by members of the university.
---
Athletics
Each semester, the university's Athletics Centre provides a wide range of fitness and athletics programmes that are available to you as a student. In addition to the many team sports like football or basketball, you can also select from almost 100 courses that include activities like aikido, Thai boxing, laughter yoga and pilates.
Athletics Centre course offering (in German)
The University of Bamberg is also a partner university to elite sports development and is committed to providing student athletes in the A, B and C national squads of their particular sports with support in balancing elite athletics and university studies.
---
Foreign Language Programmes
The university's Language Centre provides students with the opportunity to learn new languages or improve existing skills. The course offering ranges from ancient Greek to Hungarian and includes business-specific language training.
The Language Centre offers all courses required for degree programmes, and it's possible to take individual classes based on your own personal interests.
---
Theatre Groups
Are you interested in getting on stage or working behind the scenes of a theatre production? The University of Bamberg is home to various student theatre groups that are always looking for new talent. The possibilities include improvisational theatre and foreign language theatre groups.
The following theatre groups are currently active at the university: