Theatre, Music, Museums
In Bamberg, there's something for every cultural taste. The city's various theatres offer a widely varying programme throughout the year. The ETA-Hoffmann-Theatre's Calderon Festival and Poetry Slam events, held in the city's Old Court each summer, are particular highlights.
The Kontaktfestival, which takes place annually, organised with great attention to detail, offers a colourful programme with live music, DJs, theatre, exhibitions and workshops. At the beginning of summer on 21 June, the Fête de la Musique invites you to open-air concerts in the old town. In addition, there are regular concerts and cultural events at the Kulturfabrik KUFA, the Live-Club or the Kulturboden Hallstadt.
The Bamberg Symphony Orchestra offers special student concerts twice a year, and in August the pedestrian area is home to the many German and international musicians performing in various genres at the swinging Blues & Jazz Festival.
The university itself also contributes to the city and region's cultural life with numerous literary events, readings, exhibits and concert series which are open to the public.
A particular highlight is the Bamberg Zaubert International Streetlife Festival. Magicians, acrobats and street performers of all kinds make the streets and squares of Bamberg their stage and attract over 150,000 spectators. The festival takes place each July.
A city which is dedicated to bringing together the present and its 1000-year history is of course predestined to be the home of a lively museum and gallery scene. So it's no surprise that Bamberg has so many interesting, first-class museums.
---
Cinema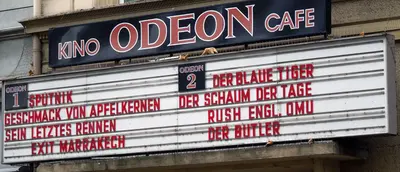 Bamberg is also a city with a lot to offer cinema fans. The Lichtspiel and Odeon cinemas have earned countless prizes for their high-quality programmes which, in addition to mainstream films, specialize in art-house productions. These two cinemas are also home to Bamberg's short film festival, the Bamberger Kurzfilmtage, which takes place each winter.