Why Bamberg?
Excellent learning conditions
Small groups foster an intensive exchange between students and instructors.
Course content adaptable to individual students' profiles.
Strong research orientation
Strong research profile with international cooperation partners.
Students gain the opportunity to work with data from ongoing projects and gain first-hand experience in academic research. One example of this is the Multi-CAST corpus-building project, which collects texts from diverse languages from across the word and analyzes them from a comparative perspective.
Highly international character
All core courses are taught in English, and can be completed without knowledge of German (though students are definitely encouraged to learn German)
Easy accreditation of credits gained abroad.
Flexibility
Choice of five areas of specialization.
Easy importing of course credits from related subjects.
Student network
The Chair of General Linguistics is part of the Institute of Oriental Studies whose students are organised in the so-called Studentische Arbeitskreis Orient. Here students can get in touch with fellow students, and more senior students can also provide advise on various topics.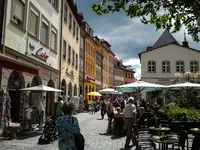 Life in Bamberg
Bamberg has a beautiful old town that is a UNESCO World Heritage Site. The city's character combines closely-knit social networks and an open and international mind set, and thus provides an ideal environment for intensive and successful studies and a good work-life balance.