Companion website for
Research Methods in Language Variation and Change
Research Methods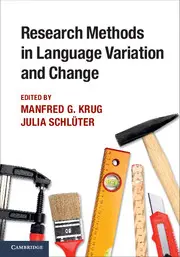 Cambridge University Press Online Catalogue
Edited by Manfred Krug and Julia Schlüter. Cambridge University Press 2013.
About the book
Research Methods in Language Variation and Change is a collective volume dealing with various methodologies in the field of empirical linguistics. The different chapters offer detailed insight into the diverse spectrum of empirical research methods currently applied in the field of language variation and change and aim to supply the reader with the necessary methodological know-how to independently conduct scientific empirical studies.
About the website
The companion website was established in connection with several advanced linguistics courses, in the scope of which students of the Universities of Bamberg and Regensburg conceived draft pages corresponding with the book's respective chapters.
For each book chapter, this site provides a variety of
summaries,
background information,
further resources,
exercises,
hands-on activities,
sample material for case studies,
illustrations of mini-projects and
web links.
Table of Contents
Part 1.1 Fieldwork and linguistic mapping
Part 1.2 Eliciting linguistic data
Part 1.3 Alternatives to standard reference corpora
Part 3.1 Basic statistical analysis
Part 3.2 Multifactorial analysis