Simone Linz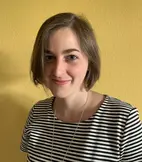 Teaching Fellow

Contact Details:
Obere Karolinenstr. 8, Raum 02.03
D- 96049 Bamberg
E-Mail: simone.linz(at)uni-bamberg.de
Please contact for appointments.
Academic Career:
Since 10/2020: Teaching Fellow at the Chair of English and American Cultural Studies at the University of Bamberg.
10/2017 - 02/2020: M.A. English and American Studies, University of Bamberg
10/2015 - 02/2018: B.A. English and American Studies with minors in Sociology and Modern History, University of Bamberg
08/2013 - 12/2013: Semester Abroad; California State University, Fullerton
10/2011 - 10/2015: B.A. Social Economics, University of Erlangen-Nuremberg
Publications
"From Milk Bars to Starbucks and McDonalds: American Influences on British Youth Culture"
Transatlantic Cooperation: Selected Papers from a Student Conference on Collaborations across Space and Time. Eds. Alawa, Huda and Stefanie M. Schuster. Lasky Center for Transatlantic Studies, Munich: 2020.
[https://www.laskycenter.amerikanistik.uni-muenchen.de/forschung1/publikationen/ transatl_coop_conf_vol.pdf]
Research Interests:
Disaster Studies
Californian Literature and Culture
Gender Studies