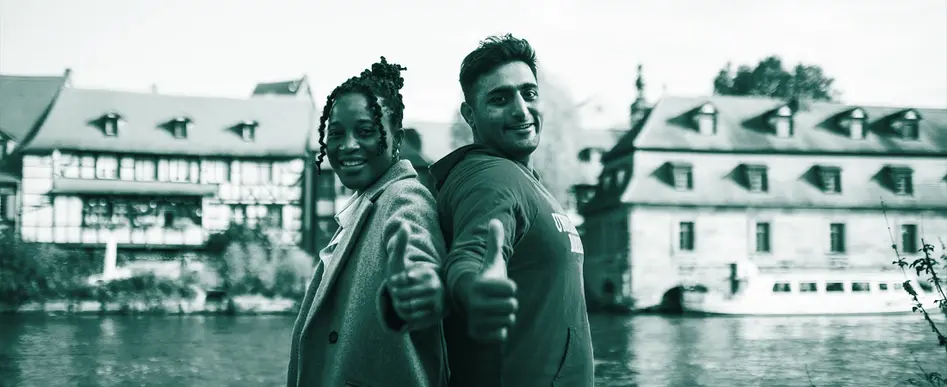 Two countries – Two degrees
Political Science is an international and diverse discipline - and so is our political science study program! In our double degree programs, you study one year at Bamberg, and year at one of our foreign partner universities. Upon successful completion of both parts, you receive two master's degrees from two universities in only two years!
Each of our programs allows you to experience different perspectives of political science and gain important international academic experience. Studying at two universities has thereby never been easier: As a member of a double degree program, you benefit from close cooperation and receive acces to a broad support network.
You can choose between varying specialisations for each institution, thereby offering you the possibility to combine multiple focus areas - or approach one focus area from different institutional perspectives.
Currently, we offer the following double master programs:
University of Essex (Colchester, UK)

Aston University (Birmingham, UK)

Radboud University (Nijmegen, NL)
Political Science at Bamberg
As part of each double degree program, you will be spending one year of your studies at Bamberg. At the University of Bamberg, Political Science is taught as a social science with a strong empirical focus. Students will be taught by a number of scholars with a reputation for international excellence, who are committed to offering and developing an outstanding learning experience for students from all backgrounds. The university is in a position to offer courses in all major subfields of Political Science, whereas almost all Master's courses at Bamberg are taught in English. Both our teaching and research are strongly driven by theory, and cutting-edge research methods are central to our approach. Moreover, the university provides students with an excellent library and ICT facilities.
>>> Find out more about the M.A. in Political Science program at Bamberg