Post-Graduation
Career Prospects
An excellent job market awaits Information Systems graduates. Due to technological and economic development, the demand for the coming years should continue to rise. Additionally, you can expect an interesting and versatile professional life, great income and good career opportunities. A 37.5-hour work week is also a perk that doesn't occur too often.
Information Systems graduates work in sectors that include industrial and commercial corporations, software development firms, banks and insurance companies, public services, education and research, and consulting firms.
Educational Advancement
The Information Systems bachelor's degree programme prepares you for continuing your university education within the framework of a master's degree programme, as well as for stepping directly into the workforce.
Information on master's degree programmes in the Information Systems and Applied Computer Science Faculty can be found here.
In which fields of work are our graduates active?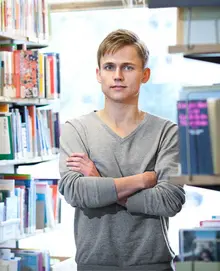 Tobias Balling - Graduate of Bamberg WI and co-founder & CTO Blinkist
I can't exactly say whether words like founder or entrepreneur represent a particular job profile. As an entrepreneur, it really doesn't matter what you studied previously. If you haven't founded one or two companies, you can't be prepared for these kinds of jobs. You have to take responsibility for your own company every day. Every day you have to be an all-rounder and bear the responsibility for all aspects and employees in your given field. For this reason, it's especially important that you master your craft.
My craft is Information Systems. I studied Information Systems at the University of Bamberg with a focus on Information Systems, Information Technology and Business Administration and Management. The skills that my craft has brought me are a mix of a lot of things. A combination of lectures, practical work at the university, working student activities at Siemens AG, an internship abroad in Singapore and a first business start-up, was what makes me enjoy every day again to cope with all tasks.
I founded Blinks Labs GmbH with 3 friends while I was still writing my thesis in Professor Weitzel's department. Our team is extremely "heterogeneous." Two of us studied Business Administration and Management, one studied Psychology and then there's me - the techie with business administration leanings. Together with a team we're working on our first product: Blinkist. Everyone wants to be smart and learn new things. However, many of us don't have the time or motivation to engage in all of the things that interest us. To solve this problem, we've developed an iPhone app that incorporates innovative content to make knowledge acquisition mobile and flexible. Blinkist therefore makes it possible to read books that you want. In less than 20 minutes, and for only a little money, we convey all the core content of current bestsellers!
Waking up every morning and not HAVING to work, but rather WANTING to work, not having to meet a certain quota of hours, but rather completing tasks as efficiently as possible is what excites me most about my job. And that's why I founded my own company. I think everyone can start their own business if they have a good idea. However, it does require a lot of courage and work. Since job offers with good wages and range of duties aren't uncommon, you have to believe in yourself and your idea and work hard for it.