Palnar Transmedia Pvt. Ltd.
Palnar Transmedia located in Trivandrum, India, is in our Corporate Internship Program since WS 12/13. All information about the company can be found on Palnar Transmedias' Website.
If you are interested in an internship at the company, please contact the Career Center WIAI.
For general questions and experience about internship at Palnar, you can contact Max Binnewies (maxbinnewies(at)gmail.com), he was an intern from September 2012-January2013.
Description...
Who we are
Palnar Transmedia was founded in 1998 at Technopark Campus in Trivandrum/India and is now a leading software and SAP consulting company, in the field of commercial and public utilities, developing and delivering different high quality software applications, software and SAP consulting services to clients in Europe, the Middle East and America.

What we do
Palnar focuses in the development of quality software to meet the individual business requirements of customers. We create powerful solutions by maintaining the high quality software development standard, in which we constantly strive to exceed the expectations of customers.
Palnar also provides extensive VPN / Citrix-based remote SAP services on site. Palnar has a testers quality assurance team, who play an important role in the various stages of development.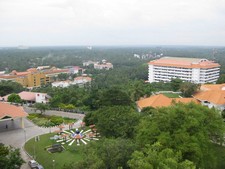 Trivandrum is the capital of Kerala state in southern India. The city has about 800,000 inhabitants and is characterized by its tropical location. Due to the proximity to the equator, the temperature throughout the year is between 25 and 35 degrees Celsius.
Located close to the city is Kovalam and Varkala beaches, which can be reached by bus. A train connection from Trivandrum Central station to many destinations in South India can be achieved. The city is also connected to many other national and international destinations via its own airport.
In Technopark is the office of Palnar located, which is the largest and oldest technological park in India. Here, more than 30,000 IT professionals work in more than 200 companies. Technopark Trivandrum is a mainstay for the Indian IT exports and continues to grow.
Palnar employs in India about 50 employees, which facilitates a quick start and good communication contact with other employees and management staff. An internship at Palnar Transmedia takes at least four months and offers the possibility of working in various departments of the company. The tasks are focused on IT management. Technical programming skills are not required. It is possible to gather experience in software development, if you wish.

Typical tasks during the internship are:
Business Development
Project Coordination
Translation services
Contact with German customers
Administration
Human Resources
Requirements for applicants:
Very good knowledge of English Language
Very good knowledge of German language
Flexibility
Studying at WIAI
At least in third Semester
Jonas Weißenbacher (Bachelor IISM) was from 28.09.2014 - 01.03.2015 in India for an internship at Palnar Transmedia. The review can be found here.(357.7 KB)
Julian Perlinger (Bachelor IISM) completed her internship at Palnar Transmedia from March 2013 - August 2013. The review can be downloaded here(2.0 MB).