Qualification objectives of the Virtual Master's Degree Program of Information Systems (VAWi)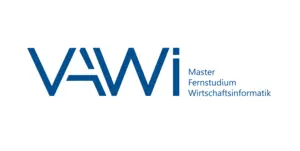 The Virtual Master's Degree Program of Information Systems (VAWi), both in the VAWi090 and VAWi120 variants, achieves the following qualification goals in particular:
Academic qualifications and qualifications for qualified employment:
By attending the specialist modules as part of the individually compiled curriculum, graduates can confidently understand, reflect on and apply business IT theories and procedures from a portfolio of 13 to 19 modules (depending on the study variant VAWi090 or VAWi120).
By attending the specialist modules within the framework of the individually compiled curriculum, graduates can independently analyze problems in information systems using scientific methods, develop solutions based on the latest state of science and technology, control and check their implementation and prepare and present the results achieved in a target group-oriented manner.
Graduates have demonstrated within the scope of project work that they have mastered methods and processes of information systems, such as quantitative or qualitative methods or design research processes, and that they can also use them appropriately in an unfamiliar, interdisciplinary application context.
Graduates have shown in their thesis that they can independently develop extensive research work in a given time frame by applying the specialist knowledge they have learned using independently selected and well-founded scientific methods to a research question that has been specifically derived, taking into account generally recognized principles of good scientific practice.
Graduates are familiar with a logical-analytical, systemic approach that enables them to examine new types of problems and complex relationships in information systems based on limited information and to develop solutions by integrating existing and new knowledge.
Graduates can independently contribute to the scientific development of the subject and are qualified to do a doctorate. In particular, the thesis enables them to reflect on methods and theories of information systems and to develop them further.
Personality development:
Graduates have set individual priorities and developed a professional self-image. They can realistically assess their abilities, meet the respective practical requirements independently and take a critical look at the effects of their work. You have developed specific ideas about how you would like to develop professionally.
Graduates are trained to look at problems in the field of information systems both alone and in a team and to involve those involved in a goal-oriented manner, taking into account the respective group situation. In the context of group work, you have shown that you can creatively and constructively develop possible solutions in a virtual team and communicate these in a well-founded manner.
Graduates can acquire extensive specialist knowledge both under supervision and independently. In particular, they have the ability for continuous further education, as required by the dynamic development of the information systems subject. With the successful completion of the distance learning course, you have shown that you can pursue further training in parallel to a professional activity according to your personal and professional requirements and interests, while flexibly adapting your professional obligations.
Social engagement:
Graduates can critically reflect on the technical and non-technical effects of the use of information systems. This enables you to responsibly shape the digital transformation of the economy and society.
By dealing with information systems topics, graduates can critically assess current social discourses (e.g., on sustainability or the ethical design of information systems) and make contributions to these questions.
Due to the special subject-specific nature of the master's course, the graduates know how to approach ethical questions and challenges from the perspective of business administration and IT, depending on their focus, and can play a decisive role in shaping social processes with a sense of responsibility and a democratic community spirit.