Lecturer in Comparative Politics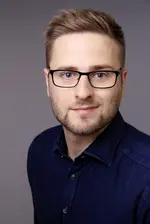 Dr. Lucas Geese

Feldkirchenstraße 21
Phone: +49(0)951 / 863-3010
Room no.: F21/03.13
lucas.geese(at)uni-bamberg.de
Since August 2019, Lucas Geese is a Lecturer and Researcher in Comparative Politics at the Chair of Comparative Politics at the University of Bamberg. Previously he was a teaching fellow (October 2018 - March 2019), and Lecturer and PhD fellow at the Chair of Comparative Politics at the University of Bamberg (October 2012 - September 2018). From May 2014 until May 2017 he was also involved in the ORA+ -Project "Pathways to Powers - The Political Representation of Citizens of Immigrant Origin in Eight European Democracies" (www.pathways.eu).
Lucas Geese holds a German Diploma degree (equivalent to Master) in Political Science, Economics and the History of Economics and Innovations from the University of Bamberg. He finished his PhD on "institutional mechanisms of political representation in the immigration society" in Juli 2019 at the University of Bamberg.
His teaching and research focuses on comparative politics, political representation, parliamentary behaviour, candidate selection, parliaments and voters, immigration and integration, ethnic minorities, quantitative methods and text analysis. His work has appeared in Acta Politica, European Journal of Political Research, German Politics, International Political Science Review and West European Politics.
He is on parental leave from October 2020 until January 2021.
CV(526.0 KB, 7 pages)
Publications(363.4 KB, 2 pages)