Communication Science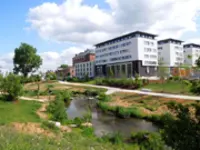 Since 1982 Communication Science ("Kommunikationswissenschaft") is part of the faculty speech and literature ("Sprach- und Literaturwissenschaften") at the "Otto-Friedrich-University Bamberg". Bamberg's Communication Studies have gained high reputation as one of the leading departments in Germany.
The internationally renowned Prof. Dr .Dr. Manfred Rühl became its first Professor. In 1985 a second professorship was established. Currently the Institute is endowed with four professorships, which are held by Rudolf Stöber, Markus Behmer, Carsten Wünsch and Olaf Hoffjann.
Communication Science is focussing on theoretical thought as well as empirical studies on a variety of subject matters: Journalism and public relations, mass media and society, media and communication history, organisational communication, new media and Internet, public opinion and political communication, and international communication. The subjects are covered in both research-programs and study programs.
Students of Communication Science are prepared to work in the fields of journalism, public relations, business and organisational communication and academic communication research. To facilitate the entry to the job market, the extensive course schedule offered each term includes designated media practice courses in addition to the theoretically oriented classes.