Bamberg Graduate School of Near and Middle Eastern Studies (BaGOS)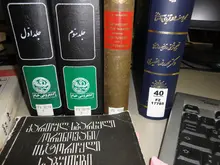 With effect from September 20th 2012 the Bamberger Graduiertenschule für Orient-Studien/Bamberg Graduate School of Near and Middle Eastern Studies (BaGOS) was founded at the Institute for Oriental Studies.
The Graduate School is intended to offer Phd students working in the area of Oriental Studies an optimal framework via a structured and research-intensive program leading to an efficient doctorate process and a swift completion of the thesis. The academic program which is yet under development serves to give professional and methodical assistance in the realization of your own research projects and comprises meetings to discuss project drafts. It also qualifies for participation in the current academic discourse.
Collaborating closely with the Trimberg Research Academy (TRAc) the Graduate School also offers courses for academic key qualifications and assists in the acquisition of scholarships from third-party funds.
To become member of the Graduate School you have to be a postgraduate student at the University of Bamberg under supervision of a professor or reader of the Institute for Oriental Studies. You can also become a member if you have already completed your Phd in this area. Exceptionally highly qualified Master students may also be admitted to the Graduate School.
If you are interested to be admitted to the Graduate School or have special questions please contact its spokesman Prof Dr Patrick Franke.
For all questions regarding a PhD project please get directly in contact with the corresponding professor of our graduate school:

Arabic Studies (Behzadi)
Islamic Studies (Franke)
General Linguistics (Haig)
Turkish Studies (Herzog)
Islamic Art History and Archeology (Korn)
Jewish Studies (Talabardon)
Iranien Studies (Werner)
Academic Program
The academic program of the Graduate School consists of three different kinds of activities:
The academic colloquium which takes place annually in the end of October. All current Phd projects are being discussed here. The next colloquium will be on October 25/26 2013.
The doctoral workshop which is conducted quarterly. In this event the Phd students work independently on a given topic pertaining to methodology or epstemology. They invite one of their supervisors or external scholars from other disciplines to give talks on these topics.
The Bayrisches Orient Kolloquium
Several other academic activities (workshops and conferences) at the Institute for Oriental Studies.