Studies and Course Guidance
Studying Political Science in Bamberg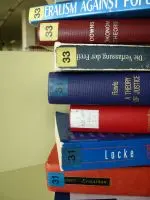 The objective of studying Political Science in Bamberg is to gain thorough knowledge of political institutions, processes and results together with their determining parameters within national and international settings. Political Theory supports and complements this objective in three ways.
Firstly, courses in Positive Political Theory support empirical research by examining its theoretical and methodological foundations together with teaching modern instruments in theory formation, such as action and decision theory, game theory and computer simulations.
Secondly, our seminars in Political Philosophy cover the normative and moral evaluation of politically relevant phenomena, asking key questions such as 'When is it legitimate to exert power over others?', 'Is it morally permissible to go to war?', 'What does it mean to be free and equal?', 'Which are the criteria for just institutions?' or 'What is the good state?'.
Thirdly, we teach the history of political ideas, discussing classic texts by authors such as Hobbes, Locke, Rousseau, Machiavelli and others.
Course Guidance
If you have any questions about the Bamberg BA degree or MA degree in Political Science, our student advisors are happy to help you with general questions.
For more information on specific courses in Political Theory, please contact the respective course convenors directly.