Welcome to Bamberg!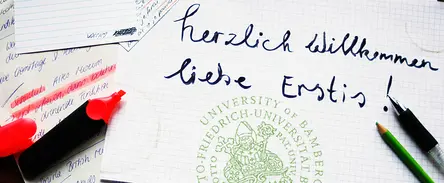 You have decided to pursue your studies at the University of Bamberg and are enrolled in one of our degree programmes.
For an initial orientation, we provide you here with information that is particularly important for students just beginning their studies.
It is best if you take your time to look through the following pages and make a note of all the dates that are important to you! Our offering is still being expanded, so it is best to check back often.
New Student Orientation

New student orientation events are held in the week before the start of each semester. First-semester students receive subject introductions as well as help with creating a course schedule.
Formal Welcome

At the beginning of each winter semester, the city and the university invite all first-year students and their parents and friends to a formal welcome event.
Due to the coronavirus pandemic, there will be no formal welcome event in the 2021/22 winter semester.
UniBamberg@Social Media

Our social media editorial team welcomes you and all new students to the University and provides you with important tips for your transition into student life in Bamberg!
Lecture Periods - Course Schedules - Re-registration