Marcel Großmann, M.Sc.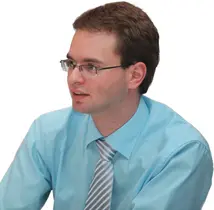 University of Bamberg
Faculty of Information Systems and Applied Computer Science
An der Weberei 5
D-96047 Bamberg
E-Mail: marcel.grossmann(at)uni-bamberg.de
PGP-Key: B19B98AF
PGP-Fingerprint: 2E9E B446 14AB AC30 C2D7 30EF 78FC 53F6 B19B 98AF
Office WE5/05.033
Phone +49 - 951 - 863-2821
Fax +49 - 951 - 863-5528
Consultation Hour
Almost always when I am in my office - to be sure, just write an e-mail.
Research
Mobile P2P networks
P2P performance of devices with an Android operating system
Influences of virtualisation environments on next generation networks
Software Defined Networks and virtualized network functions
Single Board Computer in the Internet of Things
Lightweight virtualisation solutions, like Docker
Quality of Experience (QoE) of stereoscopic (3D) video streaming
It is a pleasure for me to work with motivated students on those fields of research. If you are looking for a seminar / bachelor / master thesis or a project do not hesitate to write a short, informal eMail or just visit me in my office.
Selected Publications
Curriculum Vitae
| | |
| --- | --- |
| seit 15.03.2012 | Research assistant at the Professorship of Computer Science - Communication Services, Telecommunication Systems, and Computer Networks of the Faculty of Information Systems and Applied Computer Science of the University of Bamberg |
| 15.03.2012 | Master of Science in Information Systems on the topic "Performance of Mobile P2P Video Streaming on Android Smartphones" |
| 01.04.2010 - 31.03.2012 | Master studies in Information Systems at the University of Bamberg |
| 09.04.2010 | Bachelor of Science in Information Systems on the topic "Development of a Conceptual Methodology for Data Schemata of a Medical Information System using the Structured Entity-Relationship Model (SERM)" |
| 01.10.2006 - 31.03.2010 | Bachelor studies in Information Systems at the University of Bamberg |