Ann-Kristin Menhardt (M.Sc.)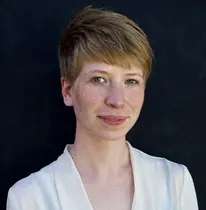 Contact
Research Associate in project "LeA"
Steinertstraße 1, Room M3N/03.42
E-Mail: ann-kristin.menhardt(at)uni-bamberg.de
Tel.: +49 (0)951 - 863 1782
Ann-Kristin Menhardt joined the Professorship of Work and Organizational Psychology as a research associate in February 2022. She is a team member of the ESF-funded project "LeA: Leading Digital and Agile in times of Covid-19", in which coaching and an app for SME managers are implemented and evaluated.
Ann-Kristin received her Master's degree in Work and Organizational Psychology at MSH Medical School Hamburg, where she also gained experience in scientific analysis and writing.
Short bio
Since 02/2022
Research associate at Otto-Friedrich-Universität, Bamberg, Chair of Work and Organizational Psychology, Project LeA
10/2020 – 10/2021
Research Assistant for a study at MSH Medical School Hamburg, Hamburg
10/2019 – 01/2020
Internship with the business psychology consultancy Gideon GmbH, Potsdam
10/2018 – 10/2020
M.Sc. Work and Organizational Psychology (MSH Medical School Hamburg, Hamburg)
10/2016 – 05/2018
Order Management (TRANSA Spedition GmbH, Mannheim)
10/2013 – 10/2016
B.A. BWL - Spedition, Transport und Logistik (DHBW Mannheim, Mannheim)