Internationality As A Way Of Life – Open-Minded & Open To The World
International Research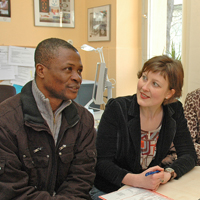 As an internationally renowned research centre, the University of Bamberg is committed to the academic exchange of knowledge and ideas, and it promotes networking and partnerships with foreign universities and research institutions. For years, foreign exchange opportunities, special degree programmes and interuniversity partnerships have drawn foreign students to Bamberg and led Bamberg students abroad.
At the University of Bamberg, internationality is more than a mere formality; it is desired, promoted and is indeed a way of life. Following in the footsteps of the worldtraveling Jesuits who founded the Academia Ottoniana in 1647, Bamberg's researchers and academics share their knowledge and skills worldwide. The University of Bamberg has cooperated with partner institutions in Budapest, Sarajevo and Tirana, to create joint master's degree programmes in economics. Currently, a joint master's programme in political science is being planned with the University of Tiblisi. And conversely, guest professorships facilitate the intensive transfer of knowledge and ideas from abroad to Bamberg.
Our university's Welcome Center, which was founded in 2010, provides support and assistance for our foreign guests. One example of the many academic endeavours in which networking, exchange and cooperation are coordinated from Germany is the interdisciplinary "Monuments and Context in Bukhara" project.
Exchange Programmes, International Study Programmes, and International Cooperations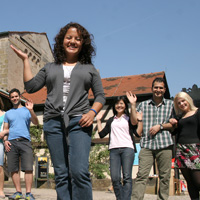 Each year, over 500 students take advantage of opportunities to pursue foreign studies, complete an internship or teach at a school abroad.
Looking only at the EU's popular Erasmus Programme, an average of approximately 25 percent of the students in each year's class participate in an exchange, making the University of Bamberg the most active of Bavaria's universities. Degree programmes like the European Joint Master's Degree in English and American Studies promote cross-cultural competence and prepare graduates for positions of leadership both at home and abroad.
Exchange programmes and inter-university partnerships ease both the placement of Bamberg students abroad and the accommodation of foreign students in Bamberg.
The university's first international cooperation, with the University of South Carolina in Columbia (USA) in 1983, has been followed by 300 similar programmes in 60 countries. With a view to tradition, a main focus has been placed on institutions in Southern and Eastern Europe, as the Academia even welcomed 250 Bohemian students to Bamberg between 1648 and 1803.
Members of our university experience international culture as an integral part of academic life, and German and foreign-language theatre productions, literary readings and exhibits are just a few examples of this. Both the International Offi ce and Language Centre function as key supporters of this cultural cooperation and exchange.