Entrepreneurial expertise
Founding an enterprise requires knowledge and exchanges of ideas
Whether you are still in the initial stages of your entrepreneurial activities, already have a specific business concept, are already right in the middle of founding your enterprise or are simply curious about entrepreneurship: BIG's range of entrepreneurial skills development provision is bound to have something for you! BIG workshops are open to students, staff and graduates of the University of Bamberg.
You can look forward to a comprehensive selection of opportunities every semester to acquire entrepreneurial skills and discover more about setting up your own business.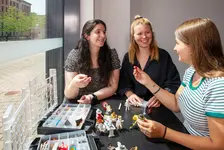 Workshops and courses
The more entrepreneurial expertise you have, the more confident you will feel about founding your own business and making your innovative idea a reality. We can help you to develop important skills you will need to get your start-up off the ground. Our workshops are aimed at students, staff members and graduates of the University of Bamberg.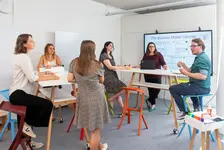 Events and contests
We offer Bamberg students, staff members and graduates interesting events and contests on the topics of entrepreneurship and innovation every semester. Why not pick up some inspiration at our talks and knowledge exchange evenings so we can generate momentum together?