Regulations and documents
Here you will find all the important documents you need for your Master's degree in Political Science at the University of Bamberg. If you have any questions or uncertainties, please contact the Student Advisory Service.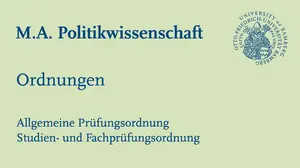 All relevant documents can be found on the German site.
The appendix to the study and subject examination regulations also defines, among other things, the credit points (ECTS points) to be earned in the module groups. In addition, these regulations govern which courses can be attended within the individual module groups. Please read these documents carefully, especially the required achievements, because they are essential for your study success!