Reference management with Zotero
Zotero is a platform-independent software for reference management and knowledge organisation. Zotero is installed in all PC pools at the University of Bamberg.
Download and installation
Storage settings and Data Protection
By default, Zotero stores bibliographic data and the associated PDFs in a local folder. We recommend using the IT-Service's file server (= network drive) for this purpose, so that you do not have to worry about backups of your bibliographic data.
Optionally, you can set up a free Zotero account to synchronise your literature data between different devices. This will require you to accept Zotero's privacy policy. With a Zotero account, you can decide whether you want to upload and synchronise the associated full texts in addition to the bibliographic data.
The University of Bamberg provides its members with unlimited Zotero storage space for this purpose. To claim this, you must add your university email address (...@uni-bamberg.de or ...@stud.uni-bamberg.de) in your account settings. You can create the account itself with a different email address.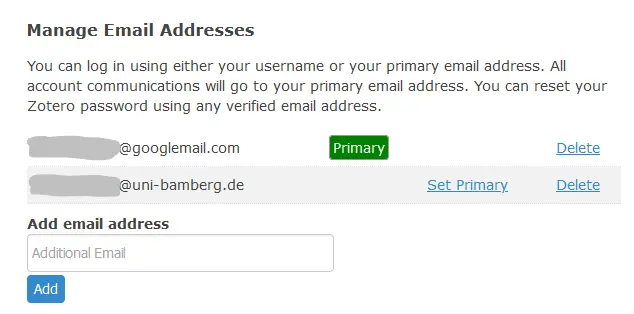 Support
Zotero provides a documentation and a helpful discussion forum.
You can contact the University Library's reference management team at literaturverwaltung.ub(at)uni-bamberg.de. If you have technical problems with Zotero, please contact IT Support.
For students and staff who have already had experience with the use of reference management programmes, the University Library provides assistance with individual questions and problems.
For example, we can help you
when switching from Citavi to Zotero,
with complex citations,
in special cases of literature import and export,
optimising knowledge organisation.