Welcome to the Department of Islamic Studies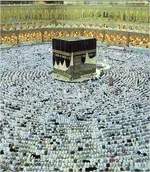 The Department of Islamic Studies (Lehrstuhl für Islamwissenschaft), established as a separate research and teaching unit in 2009, is one of the seven departments of the Bamberg Institute of Oriental Studies (Institut für Orientalistik). It offers an independent MA programme in Islamic Studies (Islamwissenschaft) and cooperates with other departments in offering joint programmes in Islamic and Middle Eastern Studies (BA) and Interreligious Studies (MA). With an emphasis on small classes and a lively culture of lectures and seminars, we work closely together with our students and guarantee an excellent quality of education. Students can write BA and MA theses as well as dissertations on topics of their own choice, if the methodological requirements are fulfilled. All of our teaching staff is fluent in English, teaching itself, however, is in German.
Profile
Islamic Studies is the scientific discipline dedicated to the study of all aspects of Islam, Islamic culture, and Muslim Societies. In general, it is not restricted to any particular region of the world, but explores its subject on a global scale. For historical reasons, however, Islamic Studies pays particular attention to the history of the Middle East and North Africa, since it was in these regions that the specific systems of norms, values and ideas permeating Islamicate cultures and Muslim societies worldwide until today took shape.
Islamic Studies at Bamberg University provides a grounding in the history of Islam from its very beginning until today; the research focus of the department is on the early modern and contemporary period, encompassing the religious, intellectual and social field. A speciality of the department is research on the traditional system of Islamic sexual ethics and its ongoing changes in contemporary Muslim societies. Several projects, workshops and publications on this subject are in preparation.
Staff
Head of Department: Prof. Dr. Patrick Franke
Lecturer: Annika Becker, M.A., Dr. Johannes Rosenbaum
Administrator: Iga Seemann
Doctoral Research Candidates: Ana Davistashvili, M.A., Sina Goegen, M.A., Bentolhoda Mousaviroghabadi, M.A.
Post-doctoral researchers: Dr. phil. Necati Alkan
If you follow the underscored links, you will find details of the careers, publications, and projects of the persons concerned (in German).
The MA Programme in Islamic Studies
The MA programme in Islamic Studies (Islamwissenschaft) is aimed at students who hold a BA degree in Middle Eastern Studies, Islamic Studies or an adjoining study field. It imparts profound knowledge of the historical development and the contemporary manifestations of Islam as well as the ability to read and understand textual sources written in Middle Eastern languages and also to analyse them by approved methods of textual philology and the cultural sciences.
The programme takes usually four half-year terms (semesters). Islamic Studies students must complete 120 credit points. Out of them, 60 are assigned to the core area (Kernbereich), 30 to the extension area (Erweiterungsbereich), and an additional 30 to the MA thesis. Applicants have to prove German language proficiency of C1 according to the Common European Framework of Reference for Languages – CEFR.
In the core area, students are required to complete six modules of 10 credit points. Five of them have to be related to Islamic Studies, one of them has to be formed by courses in Middle Eastern Studies offered by the other departments of the institute. The modules in Islamic Studies usually consist of a seminar course and a related Arabic reading course.
In the extension area, the students may complete modules offered either by other departments of our institute or departments of other institutes of our university or they may also complete additional modules in Islamic studies.
For further information on our study programme please have a look at our module guide and at the examination regulations (both in German).
Location and Contact
The Institute of Oriental Studies, including our department, is located close to the historical center of Bamberg.
Our Address: Schillerplatz 17, 96047 Bamberg
Site Plan(118.7 KB)
Phone: 0049-[0]951-863 2185
E-Mail: islamwissenschaft(at)uni-bamberg.de
Office hours of our administrator:
Mo 9-12, Tu 9–12 am and 2-4 pm, We 9 am-1 pm, Th 9-12 am and 2-4 pm , Fr 9 am -1 pm