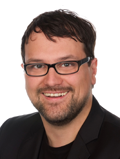 Dr. Mirko Fetter
Address
University of Bamberg
Faculty of Information Systems and Applied Computer Science
Human-Computer Interaction Group
96045 Bamberg / Germany
Visitor Address
An der Weberei 5
Room 01.035
96047 Bamberg / Germany
Directions
Phone
+49 951 863-3943
Fax
+49 951 863-3945
Email
mirko.fetter(at)uni-bamberg.de
Office hours
Wednesday, 10.30 to 12.00, please make an appointment via email
Profile
Mirko Fetter is research- and teaching assistant at the Human-Computer Interaction Group at the Otto-Friedrich University of Bamberg.

His research focus is on context-aware mediation of selective availability in computer-mediated communication.

He is the author of several national and international publications and worked in different national and international research projects. He contributed to the organisation of various scientific conferences, including the local co-organisation of the INTERACT 2013 and as a reviewer for various conferences (CHI, CSCW, INTERACT, TEI, Pervasive, …).
After receiving his diploma in computer science from the University of Applied Science Würzburg-Schweinfurt and a visiting position at the Fraunhofer Institute for Computer Graphics Research IGD in Darmstadt he worked from 2006 to 2011 as a research and teaching assistant at the Computer-Supported Cooperative Work group of Prof. Tom Gross at the Bauhaus-University Weimar.
Further information can be found here.