What is this?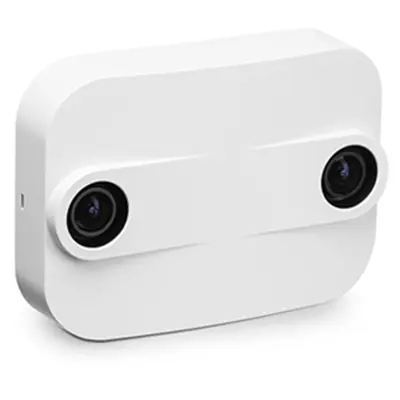 This installation is a sensor system consisting of two cameras used to detect visitor flow within the camera's field of view. Our partner Safectory installs Xovis PC2 sensors as part of the system. The datasheet provides detailed information on the technical specifications of the sensor
What does this do here?
The sensor's cameras capture and process overhead stereo images directly on the device and transmit the count of identified objects that enter and exit the field of view. Each sensor tracks only objects within its field of view and assigns a new object ID for each detection. The counting system has been configured so that the data cannot be used to identify individual persons through recognizable patterns.
This public sensor installation enables the chair to collect their own ground-truth data records.
For what will the data be used?
The captured data is currently being used in the research project 'CrowdAnym - Preliminary Study on the Potential of Anonymous Data Collection as a Basis for Data-Driven Visitor Guidance in Bamberg's Old Town'. The project aims to investigate how pedestrian traffic data can be collected in a cost-effective and privacy-preserving way, and under what conditions such a system would be acceptable to the public. Additionally, the project seeks to evaluate the services that such a system can enable and the data quality that can be achieved. The ground-truth datasets obtained from the camera sensors will serve as a reliable basis for evaluating further sensor data.
Are personal data collected?
The sensor's cameras capture and process overhead stereo images in compliance with the General Data Protection Regulation (GDPR). Each identified person is translated to an object point on the device to count the objects captured in the sensor's field of view. Additionally, the sensor is certified with the ePrivacySeal, ensuring that high standards of privacy and security are met.
Only fully anonymized data is transmitted to the chair, which cannot be used to identify an individual person. The only information transmitted is the number of objects recorded and a time stamp. No personal data is collected or shared with third parties.
Who is responsible for this and where can I find out more?