Book of Condolences
for Prof. Dr. Christoph Houswitschka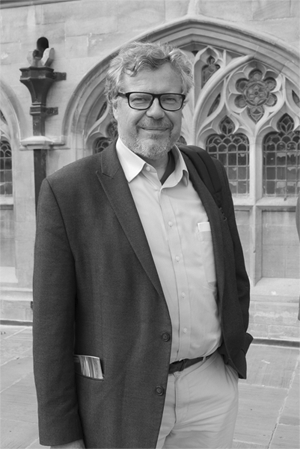 Ever since Prof. Dr. Christoph Houswitschka's unexpected and premature death, his friends from allover the world have been united in mourning.
This virtual book of condolences is intended to serve as a means for you all to express your grief and share your memories of him.
Submit condolences
If you wish to leave a condolence text, please click here to access the online form.
Your contributions will be processed within roughly a day and be published below.
---
Virtual Book of Condolences
Your name
Your message
Rabbiner Walter Homolka
I am saddened to learn of the passing of Christoph, a dear friend and colleague. A truly dedicated and well-meaning human being, much appreciated by many. May his memory be a blessing to us all.
Harald Kastler
Oh my. We studied together under Prof. Dr. Karl-Heinz Goeller. He was the smartest and wittiest among us by a long chalk. What a loss.
Onur Görkem Gürkan
I had the good fortune to have met you in my exchange semester. Now, reading your "in memoriam" page, I find the good words used to describe you to match my thoughts and memories of our time in Café Müller. Never have I met a better, more supportive human being to grace the world of English studies. I promise to consider my good fortune in making your acquaintance as a token of guidance, now that you are absent, to remind me of who I hope to turn out to be. Rest in peace Herr Professor.
Alastair Pout
I first met Christoph as a skinny long-haired youth of 15 when he came over to say with our family as part of a school exchange in the summer of 1977. I was eleven, and we lived in Derbyshire in England. Christoph stayed two weeks and immediately hit it off with my parents. Mature beyond his years, I remember him having numerous, deep and meaningful conversations with them, all about European history, politics, literature and the like. Christoph, whose English was very good, would nevertheless pause every now and again thumbing frantically through a German English dictionary to find the translation he needed for a conversation that was well beyond the norm for school level foreign language.

Myself and my brother visited Christoph and the Houswitschka family in Bavaria the next year, travelling across Europe on a coach with other pupils of the school. From those first encounters a long friendship developed between his family and ours, with visits by his sister and mother to Derbyshire and by our family to Germany, becoming close to annual events in the years that followed. Christoph kept in regular correspondence with my parents, thereafter. From what he has said, those early visits were formative experiences for him, as they were for me.

We renewed our acquaintance in 2020 when he sought out my email address in order to enquired after my mother. Thereafter we exchanged some long emails reminiscing, catching up, sharing experiences of the covid pandemic and lamenting the fractured state of politics and the withdrawal of the UK from the EU. It was Christoph's determination that such insularity would not prevail. Sadly my last email has been returned and I learn of his very untimely death. Christoph was a kind, very claver insightful man, generous of his time and thoughts, enthusiastic to build for a better world. He shall be sadly missed.

ESTHER MAVENGANO
I Learnt about the passing on of Prof. Dr. Christoph Houswitschka from Facebook just a few days ago, I am still in shock because I first met the late Prof. during a virtual interview last year, 2021, he was full of life , jovial and we talked for an hour about my postdoctoral proposal. It was like I had known him for years and in the few conversations we had I felt we had established a lifelong professional friendship. He accepted to be my host for postdoctoral fellowship at Bamberg university and immediately assisted me on improving my proposal. To the Bamberg university community I would like to say the pain of loss is felt world over and I am here in Zimbabwe grieving together with you. He made strong ties with the world on behalf of his institution and the positive image of Bamberg remains with us. Surely he is a loss to the humankind, yet his research continues to provoke our thinking and the quest for knowledge will not die in us. May his desire to influence the world through research live with us all. He was certainly a friendly face representing Bamberg university and I have a good memory of him. Rest in peace Prof.
NING WEI
I am just a normal student of Professor Houswitschka. During my master's studies in Uni Bamberg, the first lecture I attended is from him, and I was impressed and inspired so much by his presentation. Later, I have attended several seminars of professor and the oral test of one module. Throughout all my interaction with professor Houswitschka, I have been deeply charmed by his immense knowledge, humble manner and generous kindness. I admire not only his academic achievement but also his personality and characteristic. I wish to write my master thesis with him, but right now it is only a wish. Professor Houswitschka will always be remembered by me, as an inspirational lecturer, a great mentor, and a model in my life. May he rest in peace and best wishes to his family.
Muideen Anuoluwapo Olasheu
It is with a heavy heart that I write this email. I am so shocked and saddened at this terrible news. Prof. Houswitschka is not a teacher and thesis supervisor to me, he was a mentor who is always helpful and willing to assist and provide guidance regardless of how often I asked. In his last email to you he specifically asked about me and my family, what a teacher, what a great man. Words are falling me to describe what a man he was, I just pray that God grant him eternal rest and my sincere condolences to the whole department, faculty of Humanetics, and most especially his entire family.
Udoka Ogbue
When Great Trees Fall

And when great souls die,
after a period peace blooms,
slowly and always
irregularly. Spaces fill
with a kind of
soothing electric vibration.
Our senses, restored, never
to be the same, whisper to us.
They existed. They existed.
We can be. Be and be
better. For they existed.

(Maya Angelou)
Christian Weyers
Christoph gab mir sehr viel, ohne dass er etwas von mir zurück bekam oder zurückbekommen wollte. Nur bei ihm und in der anglistischen Enklave um Uwe Böker am Ende der Zeunerstraße fand ich Offenheit, Vertrauen in die eigene Arbeit und Zuversicht und noch vieles mehr, was in einer nicht gerade einfachen Zeit ungeheuer wertvoll war und was mir von den eigenen Fachkollegen auch heute noch verwehrt wird.
Auch an unsere Nachmittage in Conradsdorf werde ich mich immer gerne zurück erinnern. Für alles das möchte ich wenigstens jetzt einmal Danke sagen.

Durch Zufall sind wir uns begegnet, ein Zufall trennte uns wieder; irgendwann werden wir uns zufällig wieder treffen.
Du Lixia
I was completely stunned when I heard of the passing of Prof. Houswitschka. Overwhelmed by the news, I sat motionless for half an hour, feeling blank and empty. How could it be true, given that we exchanged messages only days before! Though quite sure I was the first individual in Xi'an, China, to get the sad news, I did not share it with other colleagues until eight hours later: I simply couldn't bring myself to talk about it; I simply couldn't believe it. --Even now, I still cannot believe it. I refuse to believe it!
In Xi'an, Prof. Houswitschka has always been respectfully and affectionately called Christoph by his Xi'an Jiaotong University (XJTU) colleagues and friends. We initially got to know him when he was invited the first time to deliver lectures in the School of Foreign Studies, Xi'an Jiaotong University, in the middle of the first decade of this Century. His lectures were so fascinating and his personality was so charismatic. Ever since then, our colleagues and students often expressed their desire to see him regularly, as if he had been one of "our own faculties." He was invited by XJTU multiple times to pay visits to us, giving lectures, offering councils to our MA candidates, and having talks with our students who either were to go to Bamberg for exchange program or those students who had been to Bamberg as exchange students. It was during these visits that deep friendships formed between him and many faculty members of XJTU's School of Foreign Studies. His amazing erudition, his positive worldview, his diligent work-spirit, his warm feeling for China, his thoughtful kindness and witty humor made him one of the very few and most popular guest professors.
Because of Covid-19, we hadn't seen him for several years. When our arms were still stretching toward him, welcoming him to visit us again and again, we received the tragic news of his passing. We cannot forgive the condition which had claimed his life! His passing was a great loss not only for University of Bamberg, but also for Xi'an Jiaotong University.
If I could somehow speak to him directly I would say "It was an honorable privilege to know you, dear Christoph."

George Ellenbogen - Boston, USA
I'm sitting at a desk close to a birdfeeder which I could incorporate into my bimonthly whatsapp conversations with Christoph so that he could observe the winter birds alighting for their sunflower seeds. He had a number of questions, clearly curious about them as he was about so many things. It may be his engagement, his lively attachment to everything around him that makes words of condolence so hard for me to form. I think of the phrase "will be missed," and, yes, I think of things that I miss, things I might not cross an ocean for but would certainly drive 60 miles for. But even without citing examples, "miss" in this sense does not capture what Christoph's death means to me nor – from what I infer from the heartbreaking comments on these pages – does it represent the loss felt by his colleagues and friends. A better equivalent would be a gaping hole close to where I live, something like a caldera, impossible to ignore… as is Christoph's presence now, leaning against so many shared moments, remembrances.

It is more than the hospitality he showed to me so often over the past thirty years when I visited him in Dresden, Bamberg, his mill near the Czech border or the time we spent together in Spain, Boston and England, more than his persistence and ingenuity in bringing my memoir and that of my partner, Evelyn Shakir, to a German speaking audience, more than the poems, paintings, shavings of the past that we exchanged, each with a life of its own.

I continue to be affected by all of that, but also by what he brought whether to students, colleagues, among others — a healing, patience, understanding, encouragement, in other words virtues that made us feel better, more buoyant, more aware that we had received a gift that we could open again and again.

I am not entirely consoled by Hamlet's comment on his dead father, "I shall not look upon his like again." All of us who knew Christoph would take that as a fair statement, but still feel a heavy loss. What is consoling and will continue to be consoling for me, for us all, is to realize our incredibly good fortune at having had that presence in our lives, a treasure trove of memories that will always be close at hand, close in mind.
John Dunkley
It was on 14 February that Chiara told me of Christoph's death. To lose a close friend is always a cruel shock, and I still can't get used to the idea that I shan't see him again. Our academic fields were different, though our paths crossed fairly often at conferences, starting in Bucharest in 2014. We quickly became friends and have visited each other (barring lockdown) every year since then, with visits to the Globe, the Munich Opera and numerous exhibitions and cultural sites. I was really delighted when he and Chiara met and am all the more conscious of her loss since their time together has been so short. He was an outstandingly devoted father to Merlin and Anselm. He was also an impressive intellectual with a rare degree of sensitivity and awareness and an incisive mind. Energetic, open-minded and unfailingly genial, he was a unique person whom we shall all miss each in our own way.

Orkun Sari
I was an exchange student in some of his classes and doing a presentation to him about a novel which is about history of my country upon his request… I still have some material in my computer waiting to be presented to him and I can't believe this very unexpected loss of Dear Professor. He was such a gentleman and a real scholar. He was a person who inspired me in a very short period and gave me hope that there really are people who could develop in-depth insight to understand the other cultures and historical backgrounds.

His profile was key to establish peaceful relations between each other all around the world.

It is very sad that I can't be his PhD student, as we spoke of it with him for future. It is also very sad that we won't be able to visit together the actual setting of the novel along with some other places we spoke of, here.

Mr. Houswitschka, I am very happy to know you and I will never forget you. Hopefully, by the let of Allah, I can make a proper use of the inspiration and hope you gave to me.

I will always remember your warm, smiling face and your kindness.

Thank you for your patience and friendliness. You will be missed.

Salute to Christoph Houswitschka from Turkey. A Great Man passed away from our world.
Norbert Lennartz
Zutiefst erschüttert erfahre ich vom plötzlichen Tod Christoph Houswitschkas! Wie gerne erinnere ich mich an Gespräche und Begebenheiten, an die Einladung nach Bamberg, die er mir zuteil werden ließ, an seine unprätentiöse und lockere Art, mit Menschen umzugehen. Christoph war ein ungemein netter und feiner Kerl, der in der Anglistik eine Riesenlücke hinterlässt. Ich empfinde große Trauer und sende mein aufrichtiges Mitleid an seine Kolleg:innen, Freunde und Familie.
Elke Ritt
Christoph Houswitschka fehlt. Soeben hat das 37. British Council Literature Seminar in Berlin geendet. Er und seine Bamberger Delegation wurden schmerzlich vermisst, war er doch viele Jahre eine tragende Söule unseres Seminars. Wir sind ihm für sein nimmermüdes Engagement und seine Leidenschaft für die zeitgenössische Literatur sehr dankbar.
Jens Martin Gurr
Ich erinnere mich gern an ein wunderbares Vertretungssemester in Bamberg im WS 2006/07, in dem ich Christoph als einen unglaublich klugen, engagierten, warmherzigen und humorvollen Menschen kennengelernt habe - er war damals Dekan und hat sich trotz zahlloser Sitzungen und Termine immer Zeit für ein Gespräch oder einen Rat genommen. Seine Ruhe, Ausgeglichenheit und Zugewandtheit haben mich immer sehr beeindruckt. Ich denke dankbar an gute Gespräche bei Wein und Essen in diesem Semester, aber auch an die großartige Tagung der Gesellschaft für englische Romantik, die Christoph mit Pascal Fischer 2017 in Bamberg veranstaltet hat. Christoph war immer einer meiner "Lieblingskollegen" - ein Wort von Andrea Grün, einer auch viel zu früh verstorbenen Kollegin.
Loretta Innocenti
Christoph was a friend more than a simple colleague: generous, loving, and thoughtful. His demise will leave this world a little emptier and we shall all miss him.
Kerstin Popp, geb. Stößel
Als ich vom plötzlichen Tod Professor Houswitschkas lesen musste, war ich wie vor den Kopf gestoßen und wollte es erst gar nicht glauben. "Mein" Professor, bei dem ich Einführungskurs, Zwischenprüfung, Hauptseminar und schließlich mündliches Staatsexamen absolviert hatte, war nicht mehr.
Ich erinnere mich gerne an seine bereichernden Seminare, seine entspannte und einfach nur sehr menschliche Art.

Welch ein Verlust für seine Familie. Ihr gilt mein zutiefst empfundenes Mitgefühl.
Patrizia Noel
Ich habe sehr gerne mit Dir in der akademischen Selbstverwaltung zusammengearbeitet. Auf einmal bist Du nicht mehr da. Ruhe sanft, lieber Christoph.
Katharina Meyer
Der plötzliche Tod von Prof. Houswitschka ist ein Verlust für die Wissenschaft und die Lehre. Seine ruhige und inspirierende Art, seine Begeisterung für die Forschung, seine außergewöhnliche Intelligenz, sein Wissensschatz und seine Herzlichkeit als Mensch werde ich in bester Erinnerung behalten. In meinem akademischen Werdegang hat er einen bleibenden positiven Eindruck hinterlassen.
Oana Hergenröther
My memory of Professor Houswitschka will always be of the conference week in Shkodra, Albania, where I met him, in a spring that seemed to embody his own personality: calm, warm, full of promise and unpretentiousness, a source of good will and inspiration. Slava mu!
Thomas Baier
Die Nachricht vom jähen Tode Christoph Houswitschkas hat mich tief erschüttert. Wir kamen ungefähr gleichzeitig nach Bamberg und haben an der damaligen Fakultät SpLit eine wunderbare gemeinsame Zeit des Aufbruchs und des Austauschs erlebt. Die Erinnerung daran wird bleiben.
One short sleep past, we wake eternally
And death shall be no more; Death, thou shalt die! (John Donne)
Elisabeth Porsch
Als Sekretärin der Klassischen Philologie war ich zeitgleich mit Herrn Prof. Dr. Houswitschka Teil der Fakultät Sprach- und Literaturwissenschaften bzw. Geistes- und Kulturwissenschaften. Unvergessen seine Souveränität in einer schwierigen Situation einer Fachbereichsratssitzung, die er als Dekan leitete, ebenso sein Engagement bei einer Stolpersteinverlegung im Mai 2018 , wo er als Übersetzer fungierte für die aus Israel und USA angereisten Nachkommen der Familie Wiesenfelder. Danke für Ihr Vorbild! R.I.P.
Alicja Witalisz, Krakow
Dear Christoph, Dear Friend,

Knowing you was a pleasure. Being your friend was an honour. You were the epitome of humanity. Kind, open-mined, openhearted, truly believing that problems and barriers exist only in human minds. With a twinkle in your eye, thoughtful smile on your face and a unique sense of humour. We will forever cherish the memories of our many visits to B. and P., and of your visits to K. and our home. It is heart-breaking to think that the activities we shared, from co-supervising a PhD, through political disputes, cooking, drinking wine over Zoom, to fixing a toilet seat, and the good times we had, will never be repeated. There's no hope of the other worlds, the curse of nonbelievers.
Who's going to comfort us by saying 'Don't worry, governments come and go'? Who's going to share their office and roof with us in times of needs? The best friend is the one we can learn from and you were certainly such a friend. We will miss you EVERY DAY.

A thousand times goodbye, dear friend,
from Alicja, Wladek and Wita, the heartbroken

Giulia Da Lio
When I think about Christoph in these days I feel a huge gap out there in the world, where he used to be and now is no more. At the same time I feel that there is something of him left in every person who had the privilege to meet him. I guess this is what happens when somebody leaves a trace.
In my memories, it is almost impossible to separate Christoph the intellectual from Christoph the teacher, the mentor and the friend. He was interested in people as well as he was interested in knowledge, in a deeper existential way. He made no difference between class, origin, age. His curiosity was there, always, providing him with that openness that characterised his personality. He taught me that behind each individual there is a story, and there is no hierarchy of stories, there is no better and worse. Seeing the humane in humans seemed the most natural thing for him.
Even if the idea of his departure gives me a feeling of deep injustice, I believe that cherishing his intellectual and spiritual inheritance gives a meaning to our shared sorrow. I see in all the messages in this book that he is still here, somehow, extremely missed yet present in what he left behind.
Mark Bernheim
I can only add my few words to all the eloquence others have expressed. I will never have the personal experience of working with Christoph but always be grateful for the year of contact we spent virtually planning the Fulbright application project which has led to a successful outcome.
I looked forward to knowing him more and more but sensed immediately the warmth and openness and generosity of every one of his gestures. I have read how much he touched and changed others, and know that they will carry forward in their own careers his values and his exemplary self. I want to do the same. In every day, every way, he will be missed and remembered.
Laura Murphy
I was so very shocked and sad to hear that Christoph had passed away. He will be sorely missed. I will remember the mischievous and humourous sparkle in his eyes at department meetings, and it is beautiful to read how his (Masters) students loved and respected him for all his hard work and dedication to them and the programme. My thoughts and sincerest condolences to his family and friends. Sleep well, dear Christoph.
Israelitische Kultusgemeinde Bamberg K.d.ö.R.
"Wem die Stunde schlägt", dieser berühmte Ausspruch drängt sich uns in diesen Tagen erneut auf.

Prof. Christoph Houswitschka war für die Israelitische Kultusgemeinde ein wichtiges Bindeglied zwischen der Universität Bamberg und dem Jüdischen Lehrhaus Bamberg - Heinrich C. Olmer.

Schon kurz nach dem Einzug in die neuen Räume im Gemeindezentrum der IKG Bamberg 2009 hielt Prof. Houswitschka einen seiner Vorträge, die nicht nur von der Bamberger Bevölkerung, sondern gerade auch von Studenten der Bamberger Universität besucht wurde.
Das Jüdische Lehrhaus nimmt für sich in Anspruch, das war ein Hauptargument für den Betriebsbeginn durch den 2012 verstorbenen Vorsitzenden der IKG Bamberg Dr. Heinrich Olmer sel. A. bereits 2001 gewesen, dem Studium einen erweiterten Rahmen im Sinne einer studienübergreifenden Vermittlung jüdischer Werte zu geben. Diesem Anspruch wurde ebenso dessen Nachfolger, Martin Arieh Rudolph, gerecht, der das Jüdische Lehrhaus Bamberg im Sinne eines Studium Generale bis heute weiterbetreibt.

Später stellte Prof. Christoph Houswitschka zwei Vorträge im Jüdischen Lehrhaus vor: So am 10.12.2015: Bedingungen und Themen jüdischer Gegenwartsliteratur in Großbritannien - "I was like an astronaut stepping out on to the moon" und am 19.06.2017 anläßlich der Jüdischen Kulturtage 2017: Die Geschichte der Juden von England.

Beide Vorträge zeichneten sich aus, dass er die Themen mit hoher Kompetenz, Herzlichkeit und Wärme, Freundlichkeit und einer guten Prise Humor zu den Zuhörern brachte, die ihm dies mit einer wahren Diskussionsfreude dankten. Dem Unterzeichner sind beide Vorträge nach wie vor in guter und dankbarer Erinnerung geblieben.

Auch hat Prof. Houswitschka im Jüdischen Lehrhaus der Liberalen Gemeinde Mischkan ha-Tefila Bamberg e.V. gesprochen und für ein gutes Miteinander beider jüdischer Gemeinden geworben.

Von daher kann ich mit Fug und Recht behaupten, das Prof. Christoph Houswitschka sel. A. für Bamberg und gerade für unsere beiden liberalen jüdischen Gemeinden ein Brückenbauer war. Er wird uns allen sehr fehlen.

Martin Arieh Rudolph
(1. Vorsitzender der IKG Bamberg)



Bernhard Schäflein
Lieber Christoph,

du warst mein Nachbar und vom ersten Moment an Freund.
Ich kenne und kannte viele Leute, aber nur sehr wenige Menschen.
Du warst einer der Jenigen.
Ich kann und werde dich nicht vergessen und ins Gebet zu meinen Lieben mitnehmen.
Hilf Allen von oben aus die deine Hilfe noch brauchen.
Ruhe in Frieden
Christian Klug
Im Frühjahr 2002 haben Christoph Houswitschka und ich sozusagen "gemeinsam" in Bamberg angefangen - er als Professor, ich als Student. In der Rückschau glaube ich, dass mein "positives Gefühl" gegenüber dem Studienort Bamberg und insbesondere der Bamberger Anglistik maßgeblich mit Christoph Houswitschka und seiner herzlichen Art zu tun hatte. Ich bin froh und dankbar, dass ich ihm das (und mehr) bei einem zufälligen Wiedersehen und einem verabredeten Treffen im Februar 2020 noch sagen konnte. Momentan denke ich oft an ihn und werde ihn und seine zugewandte, humorvoll-verschmitzte, begeisterte und begeisternde Art nie vergessen.
David Bradl
Thank you very much for inspiring talks as well as very entertaining seminar sessions. You will be missed!
Patrick Franke
Die lange Liste der Kondolierenden spricht bereits Bände. Christoph Houswitschka war ein Mensch der Konvivialität. Er hat mir selbst mal abseits einer Gremiensitzung erzählt, dass er diesem Ideal frönt. Und hinterher dachte ich, stimmt, er lebt und verkörpert es auch. Sehr, sehr traurig, dass dieser Weltbürger so früh gehen musste. Er hinterlässt große Lücken in Fakultät und Universität. Ich hätte gerne noch länger seine warmherzige Stimme gehört.
Wulf Segebrecht
Wir lernten uns 2002 kennen, als er gerade an die Bamberger Uni gekommen war und ich darauf und daran war, meinen Platz dort zu räumen. Aber es war, als hätten wir uns schon lange gut gekannt: Spontan, begeistert und begeisternd war er, ideenreich und hilfsbereit - ein wunderbarer und uvergeßlicher Kollege.
Anne Betten
Lieber Christoph! Deine Freunde, Schüler und Kollegen haben in der SZ vom 19./20.2. ihr liebevolles Gedenken an Dich angezeigt – ein Lehrer-Freund war wohl nicht mehr dabei. Aber ich bin noch da – unendlich betroffen, dass Du mich nach unserem Wiedersehen nach über 30 Jahren auf einer Anglistenkonferenz im Juli 2017 in Salzburg, wo ich mir voller Neugierde meinen ehemaligen Studenten als Keynote-Speaker anhören wollte, nach so wenigen Jahren schon wieder verlässt. Bereits unsere ersten Begegnungen waren denkwürdig: Eines Tages standest Du, wohl 1982, in meinem Regensburger Dienstzimmer und meintest, ich sollte Dich wiedererkennen, denn Du hättest doch schon als Kind bei mir in Seminaren gesessen – mit Deiner Mutter, an die ich mich dann sofort erinnerte als meine erste "Seniorstudentin", die Dich mitnahm, wenn sie keinen "Babysitter" hatte. Und weil Du dann gleich in den ersten Lehrveranstaltungen so gut warst und wir gerade aufgefordert worden waren, hervorragende Studierende möglichst früh und nicht erst gegen Studienende für Stipendien vorzuschlagen, war ich glücklich, Dir 1983 als ganz frisch habilitierte germanistische Sprachwissenschaftlerin ein Gutachten für die Aufnahme in die Studienstiftung des deutschen Volkes zu schreiben; ich habe den Tag der Abfassung sogar in meinem Notizbuch festgehalten: 4.11.83! Bald danach gingen wir beide von Regensburg fort, ich hörte nur mal gelegentlich von Deiner sehr guten Promotion in der Anglistik und später von Deiner Professur in Bamberg, sah Dich ein oder zwei Mal irgendwo flüchtig, erfreut, dass Du Deinen Weg so erfolgreich gegangen bist. Und dann das große "Wiederfinden" 2017! Du hast Dich gleich mit mir zum Abendessen verabredet und wir saßen danach bis 2 Uhr beim Wein mit ungeheurem Erzählbedarf. Das Besondere war, dass wir beide uns seit Jahren mit Fragen, die sich nicht direkt aus unseren Fächern ergeben, beschäftigt hatten: ich mit den jüdischen Emigranten in Israel und Du mit Kindertransport und vielen anderen jüdischen Themen, in den letzten Jahren auch immer mehr zusammen mit israelischen Kolleg*innen, von denen Du mir und meinem Mann (2. Generation deutschsprachiger Emigranten) begeistert erzähltest. Und das dann in der Folge immer wieder, detailliert, spontan, in soz. familiärer Vertrautheit: von neuen Freunden und Projekten im Umfeld der Jüdischen Studien, privaten Begegnungen und Unternehmungen; Fotos von der Familie, Grüße Deiner Mutter – und schließlich das Glück der neuen Heirat in Italien, aber auch Ende 2020 eine erste Anmerkung über "Lungengeschichten" und Erschöpfung, die für 6 Wochen die geliebten Radtouren vereitelten. Waren das die Vorboten? Trotz ständiger Pläne haben wir uns nicht wiedergesehen – aber was wiegt das im Vergleich zum Leid Deiner Familie, der ich hiermit von ganzem Herzen kondoliere! Wir beide werden uns ja vielleicht in absehbarer Zeit wiederbegegnen – für mich allerdings noch ganz unvorstellbar. Aber ich hoffe, Du erkennst mich dann wieder!




Jeannette Corente-Ruther
Christoph,
danke für deine Liebe, dein großes Herz und deine Wärme.
Ich konnte nicht so für dich da sein, wie du es verdient hättest. Das tut mir unendlich leid.
Jeannette
Mechthildis Bocksch
Die Menschen
Immer sind es
die Menschen
Du weißt es
Ihr Herz
ist ein kleiner Stern
der die Erde
beleuchtet.
(Rose Ausländer)

Lieber Herr Prof. Houswitschka, Sie waren ein solcher Mensch.

Anne Hrach
Die Nachricht seines viel zu frühen Todes macht mich fassungslos und sprachlos. Dass Christoph nicht mehr da ist, kann ich nicht glauben. Sein Humor, seine Menschlichkeit, seine Zugewandtheit, seine Brillanz waren einmalig und sind für immer unvergessen. Auch wenn das Leben "nach Bamberg" weiter ging, es gab darin nie wieder einen Menschen wie ihn.

Danke für alles.
Andrea Bartl
Danke für Inspirationen, neue Perspektiven, Denkanstöße, Lebensfreude.
Anne-Julia Zwierlein
Ein unfassbarer Verlust - die Nachricht von Christoph Houswitschkas viel zu frühem Tod hat mich tief getroffen. Gern erinnere ich mich an seine prägende Präsenz während meiner Bamberger Zeit. Noch vor ein paar Monaten hatten wir, mal wieder, einen kleinen netten Austausch, nur kurz per Email (nicht ahnend, dass es der letzte sein sollte). Christoph war immer so zugewandt, so voller Energie und Lebensfreude, und zutiefst menschlich. Er wird sehr fehlen.
Matthias Schönhofer
Vielen, vielen Dank für Alles!
Nikolai Press
Prof. Dr. Christoph Houswitschka unterrichtete und forschte in den 1990er Jahren am Lehrstuhl für Englische Literaturwissenschaft von Prof. Dr. Uwe Böker am Institut für Anglistik / Amerikanistik der TU Dresden. Durch seine wissenschaftliche Brillianz, sein freundliches Wesen und seinen Humor war er ein allseitig geschätzter und beliebter Mitarbeiter des Instituts und mir ein lieber Freund. Er leistete wichtige Aufbauarbeit in den Gründungsjahren des Lehrstuhls und hat sich um die Forschung und Lehre am Institut für Anglistik / Amerikanistik der TU Dresden bleibende Verdienste erworben. Ich werde sein Andenken in Ehren halten. Mein Mitgefühl gilt seiner Familie, Freunden, Kollegen und Studierenden. Möge er in Frieden ruhen.
Maria und Sebastian Köppl
In Trauer und Erinnerung an ein fachlich und persönlich großes Vorbild, das weit über Bamberg ausstrahlt :
Unser Mitempfinden gilt der Gattin, den Kindern Anselm und Merlin sowie den Eltern.
Beate Eger geb. Gierth
Als letzte Sprecherin der FS SpLit saß ich mit ihm als Dekan in vielen Gremien und Kommissionen. Uns verband die Liebe zur Oberpfalz und die Freude an der Mitgestaltung demokratischer Prozesse. Er war immer am Wohl aller Studierenden interessiert und hat Probleme stets verständnisvoll von mehreren Perspektiven beleuchtet.
Seine unbedingte Zugewandtheit und Herzenswärme prägen mein Leben als Lehrerin bis heute. Von ihm habe ich gelernt, wie man Fachliches und Persönliches verbinden kann.
Unvergessen bleiben mir das HS "History Plays" und seine allererste "Introduction" in Bamberg mit mir als verpeilte Erstsemestlerin...
Danke, Christoph!
Katrin Berndt
Die Nachricht hat mich erschüttert. Christoph wird sehr fehlen – seine Klugheit, sein ehrliches und offenes Interesse an anderen Menschen, sein Humor, seine Präsenz und seine Großzügigkeit. Ich denke mit Dankbarkeit an unsere Gespräche zurück und werde seinen im besten Sinne kritisch-fröhlichen Geist sehr vermissen.
Peter Lenz
Lieber Christoph,
Dein Engagement in der Lehre und die Bandbreite Deiner wissenschaftlichen Arbeit waren beeindruckend.
Deine menschliche Wärme und Natürlichkeit, die ich auch im Rahmen unserer Begegnungen mit unserem gemeinsamen Freund Franz Meier (+ 2011) erfahren durfte, haben mich stets tief berührt.
Ich werde die Erinnerung an Dich für immer im Herzen bewahren.
Holger Wörtmann
Es ist eine Tragödie! Jeder Mensch, der jemals mit Christoph Houswitschka zu tun haben durfte, spürt und betrauert den unermesslichen Verlust, den sein ungerecht früher Tod in die Herzen so vieler Menschen reißt. Er war ein ganz feiner Kerl, mit dem Herz am rechten Fleck, eine begeisternde Quelle des Wissens und der Inspiration, ein wahrer Professor, dem professoraler Habitus von oben herab stets fremd war. Dass ich im Leben da stehe, wo ich bin, verdanke ich zum großen Teil Christoph Houswitschka: seiner Einsicht, seiner Nachsicht, seiner Umsicht, mit der er alle Menschen um ihn herum als genau die wahrnahm, schätze und förderte: als Menschen, mit all unseren Stärken und Schwächen. Ich verneige mich in Trauer und Dankbarkeit vor diesem großen Menschen und spreche seiner Familie mein zutiefst empfundenes Mitgefühl aus.
Kirsten Christiansen
Liebe Familie Houswitschka,
die Nachricht vom viel zu frühen Tod von Prof. Dr. Houswitschka hat mich wirklich getroffen. Ich möchte Ihnen hiermit mein Mitgefühl ausdrücken. Ich war eine von unzähligen Studentinnen, die er durch das Studium begleitet hat. Ich erinnere mich an auch ungewöhnliche Seminar-Themen z. B. zu Fantasy-Literatur und seine freundliche, in sich ruhende Art, die mir in der mündlichen Prüfung sehr gutgetan hat.
Sicher wird es Zeit brauchen, bis Sie Trost aus positiven Erinnerungen schöpfen können. Bis dahin wünsche ich Ihnen viel Kraft und Unterstützung.
Mein aufrichtiges Beileid
K. Christiansen
Eva-Maria Thüne
Erst heute erfahre ich von Christophs Tod. Unfassbar. Wir haben uns in London kennengelernt, bei einem Kongress zum Kindertransport. Dann hat mich Christoph nach Bamberg eingeladen. Nun wollten wir uns in Florenz treffen. Die Gespräche mit Christoph waren immer so, als kennten wir uns seit langem, er konnte zuhören, mitfühlen, unterstützen. Eine Freundschaft, die erst am Anfang stand. Mein herzliches Beileid an Chiara und an die ganze Familie.
Vera Meyer
I am saddened beyond words by the sudden loss of a person I can only best describe as a wonderful human being; in short, a real Mensch. I met Christoph while I was entertaining tourists in the North End of Boston, singing German Lieder and performing on my Glasharmonika. He happened to be visiting Boston when we encountered one another, and when he learned that my mother was from Berlin and my father was from Bielefeld and I enjoying practicing my German, we struck up an immediate friendship. We spoke together a long time that day, then we kept up communicating online and then he was so amazingly kind to sponsor not only the laying a Stolperstein for my father's Gedenkfeier in Bielefeld, but he also came to the ceremony in Bielefeld from Bamberg. It was an honor and a privilege for him to have done this for the memory of my family, and it was a pleasure to meet him there.
Hamedreza Kohzadi
Please accept my heartfelt condolences on Prof. Houswitschka's untimely passing. I don't know what to say to express how I'm feeling. It was an honor and a great privilege for me to be Prof. Houswitschka's PhD student for about 7 years. Prof. Dr. Christoph Houswitschka was a great scholar and a compassionate human being, a fantastic man who genuinely believed in our potential and went out of his way to assist us. He will be dearly missed and forever remembered. God rest his soul.
Shula And David Harari
We live in Israel, and we have been good friends of Christoph for the past years.
We met Christoph first in London in a theater with mutual friends and immediately we had a great curiosity to understand each other .
Since then, we met him on his visits to Israel,in London and during our visit to Germany.
Christoph knew what happens in Israel, showing wide knowledge of the situation here as well as everywhere on the globe.
We really appreciate, love, and miss him.
Like everyone else, we received the news about his death as a horrible chock.
We hereby express our sincere condolences to Christoph's family and his friends.
Shula and David Harari!

Prof. Dr. Ortwin Beisbart
Christoph Houswitschka wurde während meiner Zeit als Dekan der Fakultät für Sprach- und Literaturwissenschaften mit großen Erwartungen ausgewählt und seine Berufung erreicht. Schon bald hatte sich gezeigt, in welch offener und sensibler Weise er als Wissenschaftler - dies in einem staunenswert weiten Denkfeld - und als Kollege arbeitete. Seine Berichte von Forschungsreisen waren immer inspirierend und er war stets bereit, auch einen Vortrag zu halten und gemeinsam zu diskutieren. So verloren wir uns auch nicht aus dem Blick nach meinem Ausscheiden. Ich verliere einen zugewandten Kollegen, umso mehr werden dies seine Studenten spüren. Ich traure mit ihnen, den Kollegen der Fakultät und seiner Familie.
Ulrich Martzinek
In einem anregenden akademischen Zirkel war da auf einmal Christoph, ein Mitglied, ja, aber doch schon ein herausragender Kopf mit einer auffälligen wunderbaren Persönlichkeit, weitläufigen Interessen, grosser intellektueller Aufgeschlossenheit, bemerkenswerter kommunikativer Zugewandtheit, umwerfender und freigiebiger Freundlichkeit, bedingungsloser Eingenommenheit für private wie professionelle Freundschaften und Partnerschaften, ausgestattet mit einer Fokussierungsfähigkeit für persönliche wie institutionelle Weiterentwicklung - eben ein Mensch mit tiefen humanistischen Zügen. Rätselhaft wird sein, ob die Lücke, die mit seinem Gehen entstanden ist, zu schliessen sein wird.
Chen Cui
Rest in peace, Christoph, my respected professor and most endeared friend. I was really devastated to learn about your accidental departure from us. It has been a shock to me — so sudden and premature, so distressing and lamentable, as much as it still seems unbelievable.

Christoph, to be honest, you were more of a friend than a professor to me — a unique close friend to whom I would bare my heart, especially in times of obscurity. Due to the pandemic, we met mostly online during my sojourn in Bamberg, and I was deeply impressed by your erudition and modesty immediately after our first academic talk. Even now, while I am pursuing my doctorate in Switzerland, I still often wish to continue our intellectually sparkling conversations, a source of my inspiration. Yet sadly, this is impossible.

I remember our last online meeting was held shortly before Christmas, at the end of which you advised that I should not be too polite to propose our next meeting, stressing that you genuinely enjoyed the time spent with me. And our last contact on WhatsApp was on Jan 31st, 2022, the Eve of the Chinese Spring Festival. I send you good wishes, which you reciprocated, and we also touched upon current politics with a quick word. I did have the impulse to write to you a couple of days before you left us. But I did not, for which I regret tremendously now. How I wish I had known you ten years earlier!

Yet despite your physical departure from me, I still feel your image and stature fresh in my memory, yourself remaining a paragon that keeps strengthening and enlightening me. Just as I wrote in the acknowledgements of my Master's thesis, you shall "remain my life-long role model as a teacher and a person". And so you are, I am sure, since every time when I think of you, I still feel so cheered up and motivated — as much as I used to be after each of the numerous online meetings with you.

Christoph, gone as you are, you are survived by your deeds. I shall never forget that you prepared my letters of recommendation till 3:00 am, encouraged me with much confidence after my repetitive failures in doctoral application, kept sending me good books, and helped me secure the scholarship of my current doctoral position in Lausanne… Without you, I would not have become who I am. Yet mournful as I am, I am so proud to have worked with you and under you during the critical period of my intellectual maturation.

I am sure we are both aware that it is in the midst of death that we live; and thus, perhaps death for you is but the rest of your bones and your soul's delivery, which makes it possible for you to take more naps and broccoli in paradise, while enjoying reading and bicycling there, like a knight and bookworm.

To conclude, I would love to dedicate to you the following lines from the fourteen-century anonymous Middle English poem entitled Pearl:

'O, perle,' quoth I, 'in perles pyght',
Art thou my perle that I have playned,
Regretted by myn one on nighte?
Much longing have I for thee layned
Syn into greese thou me aglyghte.

Pensyf, payred, I am forpayned,-
And thou in a lif of lykyng light,
In Paradise erde, of stryf unstrayned. (ll. 241-48)

Thank you, Christoph, for having been such a good person in my life and in this world.

Cordially,

Chen
Emilija Lipovsek
Though it's been only a few years, it feels we've known you forever. Each time, a friendly chat, peals of laughter, insightful discussion, well of references... We'll miss you so much, dear Christoph
Daniel Schümann
Prof. Dr. Houswitschka war Mentor in meinem Habilitationsverfahren zu den Darwin-Diskursen im geteilten Polen. Ich bin ihm dankbar für Ratschläge, inspirierende Gespräche sowie die Chance, mit motivierten und vielfältig interessierten Studierenden an seinem Lehrstuhl diverse komparatistische Themen zu behandeln. Sein Tod kommt viel zu früh und hinterlässt in Bamberg eine schmerzvolle Lücke.
Susanne
Lieber Christoph, wir kannten uns nur ganz kurz - und sofort hattest du mir das Du angeboten. Danke, dass ich dich kennenlernen durfte - deine Ruhe, deine Wärme, deine Freundlichkeit, deine Hilfsbereitschaft - und schade, dass ich dich nicht mehr wiedersehen werde.
Hans-Ulrich Mohr
Lieber Christoph, bei der Beerdigung von Uwe Böker, unserem gemeinsamen, inspirierenden Freund, hatten wir uns verabredet, im darauffolgenden Frühherbst zu einer Wanderung im Fichtelgebirge, in Nähe Deines Elternhauses - zur Erinnerung an viele gemeinsame kollegiale Jahre und an individuelle Jugenderlebnisse. Da kam Corona dazwischen und jetzt, wo das Virus gebannt scheint, ist die Möglichkeit weg. Das Leben ist ein größeres Mysterium als es das Felsenlabyrinth der Luisenburg vermittelt hätte. Bestehen beliebt auf alle Fälle für lange Jahre der Nachhall der großen Bereicherung, die Du für Deine Umgebung, menschlich und fachlich, bedeutet hast. In tiefer Trauer, Uli Mohr (mit Birgit).
Christiane Schönhammer
Lieber Christoph, die Nachricht von Deinem Tod hat mich sehr traurig gemacht. Wir haben vorletzte Woche noch geschrieben und gescherzt. Danke für die Gespräche und vor allem für Deine besonders warmherzige Art. Mein aufrichtiges Beileid gilt seiner Frau und seiner Familie. Ruhe in Frieden, man wird sich wiedersehen...
Florian Klaeger
Die Nachricht war erschütternd, und sie bleibt unbegreiflich. Deine Lebensfreude, deine Warmherzigkeit, deine Leidenschaft, dein feiner Humor und dein kritischer Geist - in der dankbaren Erinnerung an dich bleiben sie bei uns und machen die Welt zu einem helleren Ort.

Lie you easy, dream you light,
And sleep you fast for aye;
And luckier may you find the night
Than ever you found the day.
Mariana Oleksiienko
I'm looking at this lively picture of Professor Houswitschka and I still can't believe that he passed away so soon, so suddenly... Words fail to express what a tremendous loss it is and I can only send my deepest condolences to friends, family and anyone who knew this wonderful person.
I knew Professor Houswitschka from my Master's years in Bamberg and I can only repeat what so many people have already said - he was a Great Man and Scholar, extremely intelligent, very kind and always helpful. I will miss him greatly.
Thank you for everything and may your soul rest in peace.

Marco Ettinger
Professor Houswitschka war seinerzeit mein Prüfer in der Abschlussprüfung Anglistik. Er ist viel zu früh von uns gegangen.
Mein Beileid den Hinterbliebenen!
Andreas Weihe
For a Dancer (Jackson Browne)

Keep a fire burning in your eye
Pay attention to the open sky
You never know what will be coming down
I don't remember losing track of you
You were always dancing in and out of view
I must've always thought you'd be around
Always keeping things real by playing the clown
Now you're nowhere to be found

I don't know what happens when people die
Can't seem to grasp it as hard as I try
It's like a song playing right in my ear
That I can't sing
I can't help listening

I can't help feeling stupid standing 'round
Crying as they ease you down
Cause I know that you'd rather we were dancing
Dancing our sorrow away
(Right on dancing)
No matter what fate chooses to play
(There's nothing you can do about it anyway)

Just do the steps that you've been shown
By everyone you've ever known
Until the dance becomes your very own
No matter how close to yours another's steps have grown
In the end there is one dance you'll do alone

Keep a fire for the human race
And let your prayers go drifting into space
You never know what will be coming down

Perhaps a better world is drawing near
And just as easily, it could all disappear
Along with whatever meaning you might have found
Don't let the uncertainty turn you around
(The world keeps turning around and around)
Go on and make a joyful sound

Into a dancer you have grown
From a seed somebody else has thrown
Go on ahead and throw some seeds of your own
And somewhere between the time you arrive and the time you go
May lie a reason you were alive but you'll never know

- Thank you for being someone who threw seeds.
- Thank you for being a friend.
- We miss you.

Kerstin Zieger
I can remember the day you were late for your own seminar because you forgot where you parked your bicycle. It was a warm summer evening. Countless times I stayed behind after the courses to pester you with questions and we often got lost in our nerdy medieval discussions. These discussions, your kindness, intelligence and open-mindedness influenced me so tremendously that I even changed my plans for my Master studies, later writing my thesis under your wings. You encouraged me to stay in touch. And now, years after my graduation, I lack words. I missed my opportunity to come back, to stay in touch. You'd finally see me speechless.

I cannot think of any quote of Milton, James Joyce, or Joseph Conrad right now. There is nothing comforting. I can only think about Tolkien.
"Many that live deserve death. And some that die deserve life. Can you give it to them?"
I certainly can't. I only know that this was unexpected, unfair and far too early. I will definitely be one of the many people missing you.
Lisa Kalkowski
"We shall now seek that which we shall not find." Sir Thomas Malory
Lieber Christoph, ich kann es noch immer nicht glauben. Noch vor drei Wochen saßen wir zusammen im Online-Kolloquium, haben geredet, Emails ausgetauscht. Der Gedanke, dass das nun nicht mehr möglich sein wird, macht mich fassungslos und traurig.
Ich denke so gerne an meine Zeit in Bamberg zurück, an die Vorlesungen und Seminare bei dir, in denen ich so unglaublich viel gelernt habe, die Theaterexkursion nach London, die Veranstaltungen am Lehrstuhl, die lebhaften und auch oft herausfordernden Diskussionen. Deine offene Art, deine Loyalität, dein schelmischer Humor, deine Freundlichkeit und Anteilnahme, dein unermüdlicher Einsatz für die Studierenden – all das werden wir schmerzlich vermissen. Deine Unterstützung – egal ob als Dozent, Prüfer oder Doktorvater – war unendlich wertvoll. Dein Tod hinterlässt eine riesige Lücke, sowohl in der U9 als auch in der Welt. Meine Gedanken sind bei deiner Familie und deinen Freunden, deinen Kolleginnen und Kollegen – und bei dir, wo auch immer du jetzt bist.
Auf Wiedersehen Christoph, und aus ganzem Herzen: "Danke" für alles.
Michael Meyer
Christoph fehlt ungemein: seine angerauhte Stimme, der Schalk in seinen Augen, seine schiere Präsenz. Er war so leidenschaftlich wie reflektiert, prinzipientreu und humorvoll, voller Energie und Lebenslust. Ein wundervoller Mensch, der so wichtig war, aber sich selbst nie besonders wichtig nahm. Ich werde nie vergessen, wie er über Nacht Vorträge schrieb und trotz größtem Druck immer noch witzige Bemerkungen machen konnte. Wie er selbst über s/ein Ungeschick und seine Fahrradstürze lachen konnte. Es ist ein Glück, ihn gekannt zu haben.
Bohdana Chepka
I was deeply saddened to hear about the passing of Professor Houswitschka. I remember him from our study trip to Oxford. Professor Houswitschka was one of the most intelligent people I have ever met. I will always remember him as a very kind, interesting, wise and great person!
You will forever remain in our thoughts and hearts. Rest in peace.

Maria Makrovasili
I always think of my Master's years with a sweet nostalgia having received so much support and understanding. Professor Houswitschka was a great part of this experience, which maybe started off on the wrong foot, but eventually turned into an inspiring mentorship. My final Master's thesis would not have been possible, if it hadn't been for his continued constructive criticism, insightful approach, and, of course, patience. I still recall the feeling of admiration after each one of our long conversations about ecocriticism, nature, and literature. His knowledge was so extensive and diverse that one could not help but admire it. For all the memories and for the opportunity to learn and develop myself personally and academically, I thank you sincerely, Professor.
May your soul rest in peace.
With love,
Maria


Frédéric Ogée
For years, decades even, we met regularly at the famous LAPASEC conferences, alternately in France and Germany. The last installment was at Bamberg just before the pandemic, and with Christoph we were hoping to give a new lease of life to this friendly scholarly exchange.
We also worked together with Roberta at Graz to give life to a joint International Master's Programme, which has been a real success for many years too.
Christoph was an immensely constructive and generous person, without ever a single negative word about anyone. His foremost priority was the students, with an urgency that spoke a lot for the high standards that were his. He wanted university experience to be very special and important for every single one of them. You only need to read this book of condolences to see how widely he succeeded. I hope we can continue this in his name, with his example as guide.
You can definitely rest in peace, dear Christoph.
Pierre Degott
The academic was outsantding, the human being exceptional.
Your sense of humour, dear Christoph, your kindness and your warm-heartedness have made all those conferences spent together moments to cherish and treasure. It was a pleasure and a privilege to cross your path.
Anjali Rampersad
I have met Christoph only two times, pre-Covid, during my first year in Germany. But it feels like I have known him for much longer than that. He seemed like an old soul exuding warmth wherever he went. I can vividly remember his spirited laugh. I had my first Bamberg Rauchbier with him and Christoph (Heyl) at this old pub where they used to hang out and that memory is still fresh in my mind. He has been one of the wonderful academic connections I have made here and I consider myself lucky that I got to meet him. My heartfelt condolences to his family, friends and all those who were close to him.
Abu Shahid Abdullah
"Jewel, I have seen many students who are more meritorious than you but I have never seen anybody like you who always finds a way to come out of adverse situations. It's mainly because you are mentally a tough guy", That's what Christoph told me when I was done with MA in Bamberg and was preparing to start my PhD there. I guess, it's our ability to make fun as well as to understand jokes that's what brought us closer.
I will never forget his support throughout my journey in Bamberg. When we last met each other in a café in Austrasse, he told me he would definitely visit me in Bangladesh and take picture in my university office room. If Allah wants, we will meet again in the hereafter, have a coffee and discuss more about magical realism and trauma. Bye Christoph. I love you.
Ya Xiong
Professor Houswitschka always shared with Chinese students his experiences in China and it was just in this January he sent me a picture that he took about 20 years ago when he first visited Beijing. He looks so young in that photo. I remembered once after his seminar, I showed him a Video about my city and told him that I shall introduce him this city by the next time he visits China, but now I would never have the chance. And it seems that every time I meet him in person, I would have to help him with WeChat problems. He was as happy as a kid when we successfully find his WeChat account back and he said that finally he could contact with his Chinese colleagues. I hope he had great conversations with his friends in his last days. He knew I am a student from Wuhan, and he gave me so much support and encouragement during the lockdown time, he was just such a generous, kind and respectful person who deserved being long remembered. Thank you for giving me the chance to be one of your students, Rest In Peace. 逝者安息。
Marcel Hartwig
Lieber Christoph, dein Tod macht mich fassungslos. Ich denke noch oft an L.A. und die ersten gemeinsamen Gespräche. Du hast immer Mut machen, eine neue Perspektive auf die Welt eröffnen und Neugier wecken können. Ich habe mich immer wieder gefreut mit dir Themen aus der Literatur- und Kulturwissenschaft zu erörtern und dich als geschätzten Mentor in Bamberg wiederzusehen. Du wirst fehlen. Ruhe in Frieden!
Christoph Heyl
Mit Christoph verbindet mich eine Freundschaft, wie man sie im Leben nicht zweimal findet. Von dem Moment an, als er mich nach Bamberg ans Institut holte, wo ich ein sehr glückliches Jahr verbringen durfte, war ich berührt von seiner ungebremsten Neugier auf die Welt, von seinem wundervoll anarchischen Wortwitz, seinem extrem vielseitigen und tiefen Wissen, mit dem er auf komplett uneitle Art umging.

Ich denke an seine mitreißende Begeisterung für unser Fach, und an seine warmherzige Großzügigkeit, die immer wieder neue Formen fand, weil es ihm so sehr Freude machte, anderen Menschen eine Freude zu bereiten. Ich denke an die Zwerggasse und an das Gebäck auf dem Tisch in der U9. An unsere Gespräche bis tief in die Nacht hinein, nicht nur über Bücher, Filme und Theaterstücke, sondern sehr oft auch über Weltgeschichte und Familiengeschichten, und wie das eine mit dem anderen zusammenhängt. An unsere gemeinsamen Erlebnisse und Reisen. In Kalifornien waren wir, zwei Wochen lang die Küste rauf und runter, einfach in den Tag hinein on the road, von Los Angeles nach San Francisco und zurück. Ich denke an den Blick über die Dächer von Paris bei einer der LAPASEC-Tagungen. Die vielen Momente an gemeinsamen Lieblingsorten, in Edinburgh, in Bamberg, in Frankfurt und immer wieder in London. Ich bei seiner Exkursion dabei, er bei meiner Exkursion dabei. Mit glänzenden Augen von einem Theater ins nächste, in London auf der Suche nach Spuren des alten jüdischen East End oder auf Schatzsuche in Portobello Road Market. Mit Steinbecks Cannery Row in der Hand in Monterey. Bei Rauchbier und Tellerfleisch und Christoph-Geschichten im Schlenkerla, bei roast beef und porter und Christoph-Geschichten in Ye Olde Cheshire Cheese.

Ich denke ans Entdecken und Nachdenken und Genießen, und an sein herzhaftes Lachen. Ich denke daran, wie wir noch vor gut einer Woche unbeschwert, froh und lang per Zoom gesprochen haben, über seine und unsere Pläne, über all das, was wir zusammen vorhatten. Ich denke an Chiara, Merlin und Anselm, und an alle in der U9, damals und heute. Ich denke an die vielen Menschen, die ohne Christoph jetzt nicht da wären, wo sie sind – in der Welt und in der Art, wie sie auf die Welt schauen. Ich bin ganz sicher einer von ihnen. Und ich denke mit John Donne, den Christoph genau so mochte wie ich: Death, be not proud.

Markus Böttner
Die Nachricht vom Tod Christoph Houswitschkas macht mich fassungslos und traurig. Ich habe ihn als enthusiastischen Lehrer, tollen Chef und wahnsinnig netten Menschen sehr geschätzt.

Christoph Houswitschka hatte einen großen Anteil daran, dass mir, als erstem blinden Studenten an der Uni Bamberg, mein Studium so gut gelang. Sein Vertrauen in mich als Hi-Wi an seinem Lehrstuhl gab mir viel Selbstvertrauen.

Ich denke auch gern an meine mündliche Magisterprüfung in Literaturwissenschaft, für deren Vorbereitung er mir z. T. seine privaten Hörbücher zur Verfügung gestellt hatte. Er kam fröhlich mit einem belegten Brötchen in sein Büro und bat die zweite Prüferin und mich, doch schon einmal anzufangen. Er würde erstmal nur zuhören und dabei sein Brötchen essen. Sympathisch.

Als Christoph Houswitschka mich - Ich lebte damals in Irland. - auf einer Irlandreise in Galway besuchte, sagte er beim gemeinsamen Abendessen: "Wir haben ja nun als prof. und Student nichts mehr miteinander zu tun.", reichte mir die Hand über den Tisch und sagte: "Ich bin der Christoph, Markus."

Der freundliche Kontakt hielt auch danach noch an.

Wenn die Sonne des Lebens untergegangen ist, leuchten die Sterne der Erinnerung.

Danke, Christoph.
Friedhelm Marx
Wie ich Christoph wahrgenommen habe im Dekanat, auf den Fluren unserer Fakultät, bei Vorträgen (und einem Glas Bier danach): Diese feine Mischung aus Temperament und Gelassenheit, Weltläufigkeit und Mühlenwirtschaft, neugierig, immer guter Dinge, voller Ideen, good sports in allen Belangen. Sein plötzlicher Tod macht mich fassungslos. Er fehlt unserer Fakultät, er fehlt mir sehr.
Yildiz Asar
Maria and I started off our friendship with Professor Houswitschka during our very first semester of Master's with a *grand misunderstanding*, the story of which we still occasionally recount and laugh about. (Short summary: there was some inpunctuality, yelling, crying and reconciliation.) Over time, however, we reached a beautiful understanding, appreciation, respect and liking of each other. In fact, two years into our degrees, I remember how Prof. Houswitschka once personally approached me and Maria during a career event and told us how much he actually appreciated our presence at the Department and how happy he was to have such brilliant students like ourselves on board and how excited he was for the bright academic futures that awaited us. I remember how this speech gave me the push I so needed to complete that degree. Another two years later, in 2021, Christoph and I became colleagues and I was just looking forward for him to return from his sabbatical so that we could meet again in person. Maria and I are still in disbelief... I did not imagine my academic future without his presence. But I will hold on to his memory wherever this future leads me. And Christoph, wherever you are now, thank you so much for everything you did for the all of us! Rest in peace. Forever grateful, with love, Yildiz.
Kilian Stockmeier
Lieber Christoph,
ich bin in den letzten Tagen alte Nachrichten, Exkursionsfotos und Erinnerungen durchgegangen und kann es immer noch nicht glauben, dass ich nie wieder hören werde, wie du vom Leben erzählst und wie es dir gerade geht. Nie hätte ich gedacht, dass das letzte Bier, das wir zusammen getrunken haben, tatächlich das letzte sein würde. Du, dein Wissen, dein Humor und deine weisen Ratschläge werden mir sehr fehlen.
Du wirst in allen von uns und in den Geschichten, die wir von dir erzählen immer weiterleben.

Kilian
Freya Wurm
I still can't believe that you're gone. You were one of the most intelligent people I've ever met, always there to support us - your students - with your immense knowledge, calm demeanour and your endless belief in us. You treated us as equals, giving us food for thought to see the bigger picture. I was lucky enough to work for your department and can remember countless evenings spent in good company, talking about politics, literature and life in general. I'll always treasure the memory of you talking to my dad about the state of the SPD and politics in general at our wedding in 2017 or how you once tossed my Christmas present in my direction - all the way through the literature department - with a mischievous smile. There are so many memories of my time in Bamberg that include you – in the best way possible. You will be deeply missed. You left too soon. I'll never forget you.
Christoph Reinfandt
Lieber Christoph,
die Nachricht, dass einer von uns Christophs in der deutschen Anglistik nicht mehr da ist, traf mich letzten Freitag völlig unvorbereitet und hat mich schwer getroffen, zumal es mich vor einigen Jahren fast auf dieselbe Weise erwischt hätte. Meine Gedanken sind bei Deiner Familie.
Dein Christoph
Monika Ormenisan
Prof. Houswitschka was the most caring and the kindest a person could be. His humor always brightened up our days, and he was always fun to be around. I pray for him to have the wonderful spot in the heavens he deserves. ♡
Christine Drakew
Lieber Christoph, wie dankbar bin ich, dass ich Dir begegnen durfte. Du fehlst! Meine Gedanken sind bei Deiner Frau, Deiner Familie und allen, die Dich vermissen.
Benno Berschin
Christoph Houswitscha war die Liebenswürdigkeit in Person, nicht nur gegenüber seinen Arbeitskollegen, sondern in besonderen Maße auch im Umgang mit den Studenten. Seine Jovialität und Zugänglichkeit bleibt unvergessen und fehlt den Bamberger Philologien und der übrigen Universität schmerzlich.
+ Requiescat in pace et lux perpetua luceat ei +
Denis Simon
Lieber Christoph,

die Nachricht Deines Todes traf mich unerwartet und unvorbereitet. Wie furchtbar und unbegreiflich das alles ist.
In Erinnerung werden immer Dein verschmitztes Lachen, Dein feiner Humor, Dein unerschöpfliches Wissen und Deine Neugier an allen Themen sein. Die Gespräche mit Dir waren demzufolge auch immer eine Quelle der (wissenschaftlichen und persönlichen) Bereicherung.

Alles, was bleibt, ist die Erinnerung, der Rest ist vergänglich.

Do not stand by my grave and cry---
I am not there, I didn't die.

Ruhe in Frieden, lieber Christoph!
Gabriel Jäger
Lieber Christoph, mit Dir ist einer gegangen, der stets hilfsbereit und interessiert gewesen ist und doch mit Eigensinn und Leidenschaft für seine Überzeugungen eingestanden ist. Einer, der hart gearbeitet und so manches erreicht hat und dabei frei von Dünkel geblieben ist. Einer, der es nicht gescheut hat weite Kreise der Verantwortung zu ziehen und über all dem nie vergessen hat, Anderen mit Menschlichkeit, feinem Witz und freundschaftlicher Wärme zu begegnen. Danke, dass wir ein wenig, zu wenig Zeit mit Dir verbringen durften!
Andrea Grünwald
I would like to express my heartfelt grief for the loss of Mr Houswitschka.
As a former student of English at the University of Bamberg, although I have never attended any of his classes myself, I visited the Department of Literature a few times. I always enjoyed the cordial and warm atmosphere there which Mr Houswitschka contributed to. Anywhere you saw him, he always seemed to have a smile on his face and a friendly thing to say.
My heart goes out to his family and his friends.
Inge Milfull
Ich hatte die Gelegenheit, Herrn Professor Houswitschka als außerordentlich engagierten und freundlichen Mediävisten und Dozenten kennenzulernen, wenn auch nur kurz. Mein Beileid seiner Familie und seinem Institut für diesen großen und viel zu frühen Verlust!
Rukhsora Niyazova
Professor Christoph Houswitschka was a GREAT scholar and a kind human being. I will always be thankful to him for the knowledge I gained from his seminars and lectures. The University of Bamberg lost one of its GREAT professors. We will always keep him in our hearts.
Dear Professor Christoph Houswitschka,
You will live in your students' hearts forever!
Samantha G.
Professor Houswitschka was a great professor with a kind heart. I am terribly saddened by this news and send his family and friends my prayers.

Gone too soon. He was a great person and will be missed. Thank you for everything Professor Houswitschka. Rest in peace.
Emina Slezović
I was part of the excange programme back in 2018 and I took some of his classes.
I remember him as a kind soul with the warmest smile.
He taught me how to be okay with making mistakes and I always use him as an example of an amazing professor.

May he rest in peace and I wish patience to his family and friends.

♥️


Silvia Böker
Lieber Christoph,
die Nachricht von deinem plötzlich Tod hat mich sehr bewegt.
In den 90gern lernte ich dich als einen geschätzten Kollegen und guten Freund meines Vaters kennen. Wann immer wir uns von Zeit zu Zeit begegneten ließen wir unseren legendären Roadtrip durch die "hills von Monasterevin" gemeinsam Revou passieren.
Besonders schätzte ich deine natürliche, warmherzige und emphatische Art Menschen zu begegnen.
Besonnen sowie stets mit einer wohldosierten Prise Humor konntest du meinem Vater bis zuletzt ein kleines Lächeln ins Gesicht zaubern.
Wo immer ihr nun seid:
trefft euch gemeinsam auf einen Teller sächsischer Kartoffelsuppe und führt ausgiebige Gespräche - so wie früher.
Lieber Christoph, leider viel zu früh und unerwartet: mach`s gut!
Professor Ronald Charles Griffin
Dr. Houswitschka was a friend. His passing leaves me sad. I offer my condolences to his family and his children from the United States. Christoph was a bright, kind, generous, and helpful human being. He was a good man.
Xhoana Islam
I was so sorry and saddened by the unfortunate and unexpected news that Professor Houswitschka had passed away.

He will always be remembered for the great person, human being and academic he was. Kindhearted, considerate and candid was his approach towards his students. I have had the great chance to attend several of his amazing courses and to have him as my Master's thesis supervisor a few years ago.

Bamberg has lost one of the best Professors who will live on in our memories forever. Farewell Professor, may your soul rest in peace!
Federico Fabris
"Lieber Christoph," ich hätte mir gewünscht, viel mehr Briefe so an Dich beginnen zu können. Wir hatten nach einigen Jahren wieder Kontakt aufgenommen, und jetzt ist plötzlich die Leitung für immer geschlossen. Dennoch nicht unsere Verbindung - was bei mir von Dir bleibt. Du warst ein großzügiger, lebensfreudiger, kluger Mensch und ich habe mich immer über unsere Gespräche gefreut. Mögest Du in Frieden ruhen und möge Deine Stimme bei uns noch lang leben.
Con affetto, Federico

Fatto m'hai lieto, e così mi fa chiaro,
poi che, parlando, a dubitar m'hai mosso
com' esser può, di dolce seme, amaro."
(Dante Alighieri, Paradiso, Canto VIII, vv. 91-93)
Marjorie Agosin
Caro Christoph

your life will continue to enrich ours every hour and every day that passes. Your passionate sense of justice will remain with us always as well as the nobility of all you are
and you are at peace

Ines Detmers
Lamento

Er legte die Feder weg.
Sie ruht still auf dem Tisch.
Sie ruht still im leeren Raum.
Er legte die Feder weg.

(Tomas Tranströmer)
Jutta Göller
Lieber Christoph,

jetzt sitzt Ihr da oben in einer anderen Dimension, Karl Heinz Göller, Franz Meier, Uwe Böker und Christoph, und haltet Oberseminar oder wissenschaftliches Wochenende -- wie gern würden wir Euch hören...
My heart goes out to your wife, your family, all your loved ones,
Jutta Göller
Marlene Moschko-Peetz
Der plötzliche Tod des wertgeschätzten Uni-Kollegen Prof. Houswitschka hat mich sehr betroffen gemacht. Schon während Studienzeiten eilte diesem sehr engagierten und profilierten, wie allseits beliebten Hochschullehrer sein Ruf voraus. Meine Kommilitonen mit Hauptfach Englisch haben immer von ihm geschwärmt, später während meiner eigenen Zeit als wissenschaftliche Mitarbeiterin an der Uni Bamberg durfte ich Prof. Houswitschka bei diversen internen Veranstaltungen selbst kennenlernen. Es war immer ein kleines Wunder und Erlebnis, Zeit und Gespräche bei Vorlesungsreihen mit ihm zu verbringen. Er wird nicht nur der Universität als versierter, kollegialer Forscher und Lehrer, sondern auch als warmherzige und immerfreundliche Person fehlen!
Sabine Gruber
Es waren kurze Begegnungen mit Christoph, aber von großer Sympathie getragene - ich möchte mein Mitgefühl jenen ausdrücken, die ihm sehr nahe standen.
Dr. Naomi Shmuel Israel
Christoph was a very dear friend although we never actually met in person – we were supposed to teach a course together in Bamberg this May, and he was to accompany me to Bielefeld – my mother's hometown - author, poet and Holocaust survivor Karen Gershon.
I originally contacted him about two years ago following a chapter he wrote about her in the book Translated Memories by Bettina Hoffman and Ursula Reuter. The resulting prolific correspondence and many conversations on zoom and whatsup led me to look forward so much to meeting him in person. It is heartbreaking to me that now this can never happen.
Christoph was really a very special person, always extremely helpful and considerate. As I set out on the daunting task of writing my mother's story, Christoph accompanied me in spirit with a great deal of patience, understanding and encouragement as well as practical support in the translation of her letters. He was a brilliant scholar, very knowledgeable about so many things, I never got tired of listening to him, we could talk for hours on many subjects from historical issues to current events, German-Israel relations and more. It is not even possible to express in words the great significance he had to me during this period, I miss him terribly much. I wish to send my condolences to his family and friends, his early death is an immeasurable loss to all of us. May he rest in peace.

Mariia Horodylovska
It's not easy to bear the brunt of someone's death, especially when that someone is from your acquaintances.
We all will remember You from our educational trip to Oxford as a very interesting, intelligent, inspiring, patient, kind, hard-working person.
You are never forgotten.
Desmond Egan, Poet and Artistic Director The G.M.Hopkins International Festival
Christoph had many friends and admirers among the Hopkins Society in Newbridge College, Ireland, where he was a very popular visitor on occasion. We are all very shocked to hear of his untimely death and feel that we have lost a gentle friend.
Our sincere condolences go out to his family, German colleagues and friends.
God bless dear Christoph, we miss and will remember you.
Richard Utz, Atlanta
My heartfelt condolences to the staff and faculty at Bamberg University on the passing of my friend, Christoph Houswitschka. He graduated with me from Regensburg, took over from me at Dresden, and brought me to Bamberg as Johann von Spix International Professor, an wonderful experience that made us reconnect after many years apart. I will remember his infectious and sincere curiosity in others' scholarship and spheres of interest, and his collegial support.
Hans-Ingo Radatz
No man is an Iland, intire of itselfe; every man is a peece of the Continent, a part of the maine;
if a Clod bee washed away by the Sea, Europe is the lesse, as well as if a Promontorie were, as
well as if a Manor of thy friends or of thine owne were; any mans death diminishes me, because I am involved in Mankinde.

Wir alle stehen vor einer Lücke, die Christoph hinterlassen hat. Warum musste die Glocke schon so früh für ihn läuten?
Bin Guo
When I firstly heard the accident from one of my friends, I just could not believe it because he just replied an email to me in January about my master's thesis as my second reader. I was deeply saddened that such a person who shines with humanity and wisdom just passed away.

As a foreign student from China, he is also very famous in many universities for his knowledge and kindness. He was the guest professor of Xi'an Jiaotong University and he shared some of the interesting experience in China. I still remember and will still remember the virtual Christmas gathering in 2020, when he and his wife were together, smiled and talks the biggest Christmas tree in Beijing that he had ever seen in his life. For me, when I feel home sickness, he is like my grandpa that unites us all together and I feel the sense of belonging. He had made great efforts in building the international programms and we all will be grateful.

As a student of his, I was lucky that I had the chance to attended his seminars and classes offline about literature. He had offered me tremendous help. He is so patient and helpful when he took a long-time pause thinking, and then gave you his kind advice and encourgement. He cares for his colleagues, his students and his famly. He is so generous and helpful to everyone that arounds him. No words could express my sadness towards the loss.

It seems impossible to speak of any consolation in the face of such a bitter loss.


Elcin Uysal
Ich bin sehr traurig über das sehr unerwartete Ableben von einem der tollsten Professoren, die ich kennenlernen durfte. Ich habe die Vorlesungen mit Prof. Houswitschka sehr genossen und bin immer sehr gerne hingegangen, um die Inhalte gekoppelt mit seiner humorvollen Art zu hören. Zusammen mit weiteren Studierenden konnte ich auf einer Studienfahrt nach Oxford auch seine persönlichere Seite kennenlernen und habe mich gerne mit ihm unterhalten. Sie werden uns sehr fehlen! Ich wünsche seinen Hinterbliebenen und seinen Kolleg*innen viel Kraft.
Gabriella Vöő
Conversation with Christoph was both soothing and adventurous. We started from our common experiences--teaching literature, our readings, the nuisance of Admin--then he would take off, and we followed him. The Round Table, border crossing, treason, beavers. Christoph was audacious, alive, and he will live on in my memory as long as I am capable of remembering.
David Newbold
Carissimo Christophe
No-one in the world was better company than you over a pint of beer. Perenially positive, always kind and welcoming, you understood people, you understood the world..... and the world without you is a poorer place. Rest in peace dear Christophe!

Gaby Knappe
Christoph – memories wax and wane these days, of uncountable pieces of discussion and cake, of writing together, teaching together, exploring Oxford together with the students.
Here you are at King Arthur's Plaque
There you smile in the Bodleian
Again you firmly stand on a shaky barge, punting.
What a scholar, what a creative mind, what a colleague, what a teacher. What a friend.
So sorely missed.
Ilona Borsboom
Prof. Christoph Houswitschka begleitete mich in einem Großteil meines Masterstudiums und betreute meine Masterarbeit. Ich bewunderte seine Liebe für sein Fach und sein unglaublich großes Interesse an so vielen Dingen. So entstanden viele schöne Gespräche. Er hatte immer ein offenes Ohr und eine Hilfestellung parat, auch wenn er 'eigentlich auf dem Sprung' war. Seine Gutmütigkeit und sein großes Herz werden vielen von uns in schöner Erinnerung bleiben!
Brigitte Wallinger
Christoph war ein wundervoller Mensch und herausragender Wissenschaftler. Die Nachricht von seinem Tod hat mich wirklich erschüttert, und ich möchte seiner Frau und seiner Familie sowie seinem Institut mein aufrichtiges Beileid aussprechen.
Katherine Imbert
I'm so saddened to hear of Christophe's passing. He was one of my professors whilst I was completing my master's at Bamberg. Such a kind-hearted, sweet man, so warm and friendly. Meeting and working with him was truly a highlight of my time in Bamberg. My sincere condolences to his friends and family.
Robert Craig
I didn't know Christoph as well as I wish I had, but it's a testament to the kind of man he was that I absolutely had to add some words to these remarkable tributes. I remember several occasions on which he took far more time than he needed to in offering carefully thought-out words of encouragement and advice: exactly the right things at precisely the right moments. And on each occasion, his immense warmth and humanity shone through. He was the sort of person you knew you wanted to be around, and he will be missed very deeply.
Kai Peetz
Ich hatte das Vergnügen im Jahr 2012 zusammen mit Herrn Houswitschaka an einer Theaterexkursion nach London teilzunehmen. Auch heute erinnere ich mich noch gerne an diese tollen Tage zurück – nicht zuletzt wegen vieler toller und angenehmer Gespräche mit Herrn Houswitschka. Meine Anteilnahme an seine Familie, Freunde, Bekannte und Arbeitskolleg:innen.
Stefanie Stricker
Der viel zu frühe Tod von Christoph Houswitschka ist für alle, die ihn kannten und im privaten wie universitären Umfeld erleben durften, ein Schock und ein unfassbar großer Verlust. Sein Wissen, seine Belesenheit, seine Ruhe und Ausgeglichenheit, seine feine und so humorvolle Art bleiben mir immer in Erinnerung. Wie sehr habe ich mich immer gefreut, ihn zu treffen. An Christoph Houswitschka lief ich nie einfach grüßend vorbei. Ich hielt an und freute mich über die Begegnung und das folgende Gespräch. Er hat so viele Menschen inspiriert und geprägt. Meine Gedanken sind bei seiner Familie, seinem Lehrstuhlteam, seinen Kolleginnen und Kollegen wie Freunden.
Jochen Neurath
Ich habe Herrn Houswitschka nur in einem einzigen zoom-Gespräch kennenlernen dürfen. Er hat mich sofort inspiriert und menschlich begeistert mit seinem feinen Humor und seiner unprätentiösen Art. Ich hatte mich sehr darauf gefreut, weiter mit ihm in Kontakt zu bleiben, Ideen auszutauschen und an seinen profunden Kenntnissen teilhaben zu können. Und jetzt diese Lücke... Seinen Angehörigen meine tiefste Anteilnahme.
Lorenz Hegeler, für die Studierenden des ZIS
Vom unerwarteten Versterben Prof. Houswitschkas sind wir tief getroffen und möchten unsere tiefe Anteilnahme ausdrücken. Als wunderbarer Forscher, Lehrer und Mensch war er seinen Studierenden immer offen zugeneigt. Seine Lehre, die von seiner fachlichen Begeisterung geprägt war, wird uns stets in Erinnerung bleiben. Seine Arbeit und sein Einsatz für das Zentrum für Interreligiöse Studien sind unermesslich. Wir sind dankbar für die Stunden, die wir mit Prof. Houswitschka verbringen und das, was wir von ihm lernen durften.
Möge er in Frieden ruhen!
Jürgen Kamm
Christoph lernte ich Anfang der 1990er Jahre kennen, als wir mit den neu berufenen Kolleginnen und Kollegen das Institut für Anglistik und Amerikanistik an der TU Dresden aufbauten. Christoph arbeitete unermüdlich nicht nur an dieser Aufgabe, sondern auch an seiner Habilitationsschrift zu den Hochverratsprozessen in den 1790er Jahren. Nach Dresden verschlug es uns beide nach Bayern, und auch in dieser Phase hatten wir regelmäßig Kontakt, sowohl wissenschaftlich (noch unlängst verfasste er einen Beitrag zu den von mir herausgegebenen Band "Politisches Denken in der Britischen Romantik" und vor noch kürzerer Zeit einen Beitrag zu meiner Festschrift) als auch verwaltungstechnisch (ich durfte vor einigen Jahren als auswärtiges Mitglied in einer Bamberger Berufungskommission mitwirken), als auch pädagogisch (durch zahlreiche gemeinsame Staatsexamenskorrekturen), als auch durch unsere privaten Kontakte.
Mit Christoph verlieren wir einen großherzigen, liebe- und humorvollen Menschen, aber auch einen vielseitig interessierten und hoch angesehenen Wissenschaftler, dessen Tod bei uns allen eine riesige Lücke hinterlässt. "Stop all the Clocks …"
Stefan Horlacher
Und der Mensch heißt Mensch
Weil er irrt und weil er kämpft
Und weil er hofft und liebt
Weil er mitfühlt und vergibt
Und weil er lacht
Und weil er lebt
Du fehlst

Grönemeyer/Mensch
Felicia Lotz
Ein hervorragender Wissenschaftler und beliebter Dozent, der seinem Beruf stets mit großer Leidenschaft nachging, ist von uns gegangen. Es ist traurig und schwer, sich den Lehrstuhl der Englischen Literaturwissenschaft ohne ihn vorzustellen. Ich wünsche allen Angehörigen und Freunden von Professor Doktor Houswitschka viel Kraft in dieser Zeit.
Martin Middeke
Lieber Christoph,

als ich hörte, dass Du gegangen bist, dachte ich, dass das nicht wahr sein kann und einfach nicht sein darf. Es fühlt sich falsch an und ungerecht.

Ich erinnere gerne, dass ich Dich seit gut 30 Jahren kenne. Unsere Doktorväter hatten den gleichen Chef, wir haben oft darüber gesprochen, am Telefon oder bei Treffen auf Konferenzen. Ich erinnere die Zeit unserer Dissertationen, die Zeit der Habilitation, unsere Professuren. Wir haben als Team zahllose Klausuren im bayerischen Staatsexamen korrigiert.

Ich werde Deine Umsicht vermissen, Deine Toleranz, Deine Milde und Dein Wohlwollen --- Du bist, so habe ich Dich wahrgenommen, jemand der gezeigt hat, dass gebildete Zurückhaltung und fehlende Selbstverliebtheit Tugenden des Menschen sind.

Ich habe in verschiedenen Projekten mit Dir zusammengearbeitet und Dein immenses Wissen und Deine wissenschaftliche und künstlerische Sensibilität sowie Deine akademische Neugierde sehr geschätzt.

All dies wird bei mir bleiben, leb' wohl, Wegbegleiter, ruhe in Frieden.

Dein Martin

Klara Spechtenhauser
I am deeply saddened to hear of Prof. Houswitschka's sudden and untimely passing. It is hard to imagine U9 without his head poking through a doorway, smiling or relaying an - sometimes arguably obscure - anecdote. I will remain grateful to have worked for the department as a student helper in an atmosphere marked not only by academic passion but by warmth, familiarity and the genuine interest Prof. Houswitschka showed in the people surrounding him. My thoughts go out to his family, friends, and anyone close to him.

Peter Wagner
Ein großer Schock zu erfahren, dass ein lieber Freund und geschätzter Kollege so früh aus seinem Leben gerissen wurde, das voller Aktivität, getragen von nie erlahmendem Interesse, war. Christoph wird mir sehr fehlen, denn man konnte ihm vollkommen vertrauen und er hatte jederzeit ein offenes Ohr für die Belange anderer. Schräge Zitate liebte er - daher eines aus LOST: See you in another life, mate.
Rudolf Stöber
Lieber Christoph,
das Leben hält immer wieder unerfreuliche Überraschungen bereit. Die Nachricht von Deinem Tode ist damit nicht annähernd umschrieben. Dein Humor, Witz und Verstand, die kollegiale Freundschaft und Ehrlichkeit werden mir fehlen. Vielleicht sieht man sich wieder, vielleicht in einer Mühle, vielleicht steht sie in bel paese.
D. De Rentiis
«οἵη περ φύλλων γενεὴ τοίη δὲ καὶ ἀνδρῶν
φύλλα τὰ μέν τ' ἄνεμος χαμάδις χέει, ἄλλα δέ θ' ὕλη
τηλεθόωσα φύει, ἔαρος δ' ἐπιγίγνεται ὥρη·
ὣς ἀνδρῶν γενεὴ ἣ μὲν φύει ἣ δ' ἀπολήγει»
Aihua Li
I still can't believe this bad news. My dear Professor Houswitschka, you are knowledgeable, patient, accessible and helpful. You are the one who could answer all kinds of questions and quote copiously from many sources. You still write a comforting email to a freshman after she finishes the first presentation, despite being very busy. You are the one who would write a thank-you email to your student only because she switches on the camera during the seminar. You are the one who would always include relevant resources in the form of PDFs when responding to emails. I have learned not only how to study from you, but how to conduct oneself.

Because of the epidemic, I didn't even have the opportunity to attend your off-line class and talk to you face to face. It is so regretful.

Julia Schlüter
C harakter – unnachahmlich er selbst,
H erzenswärme – die andere wärmte,
R atschläge – wenn jemand sie suchte,
I nteresse – breit gefächert und tief schürfend,
S ouveränität – auf internationalem Parkett,
T atkraft – genug für alles, was anlag,
O riginalität – auf immer neuen Wegen
P rofessionalität – in seinen vielfältigen Funktionen,
H ilfsbereitschaft – für die vielen, die ihn brauchten,
--- er geht nicht, ohne bei uns Spuren zu hinterlassen.
Iris Hermann
Lieber Christoph,
Du warst der erste Mensch, den ich an der Uni Bamberg kennenlernte. Es ist so viel entstanden aus diesen ersten Begegnungen. Ich bin Dir so dankbar für die vielen Gespräche, Radtouren, Nächte ohne Schlaf, aber mit Kochen und Wein, Reisen, Bäume fällen und manchmal einfach nur Dasein. Das Schönste ist, dass nach vielen Stürmen eine tiefe Freundschaft immer blieb und immer neu anhob bei jeder Begegnung. Jetzt wollten wir mit Kolleginnen und Kollegen einen neuen Forschungskontext aus der Taufe heben, die "Jüdischkeit": Du fehlst, nicht nur dort, aber überall, wo Du warst, sind Spuren. Ich werde nicht aufhören, sie zu suchen.

Anna Froch
Herr Houswitschka war ein Professor, der mich in seinen Vorlesungen durch sein immenses Wissen beeindruckt hat. Die Freude an der Weitergabe dieses Wissens aber auch das ehrliche Interesse an den Studierenden standen ihm immer ins Gesicht geschrieben. Sein Engagement in so vielen Bereichen wird an der Uni Bamberg sicher fehlen.
Andreas Ullmann
Lieber Christoph,
nein, ich möchte es immer noch nicht glauben, dass du gestorben bist.
Ich denke, dass es viele Menschen gibt, die zu dir aufgesehen haben, die von deinem Wissen und von deinem Wesen beeindruckt waren, aber dass es keinen Menschen gibt, auf den du herabgesehen hast.
Jede Minute mit dir war wertvoll, jedes Treffen ein Lichtblick. Deine Loyalität, deine Freundschaft, dass du an mich geglaubt und mir die Daumen gedrückt hast, das hat mir so viel bedeutet. Danke, Christoph, Adieu.

Christian Feser
Christoph's death is still impossible to comprehend. As an academic teacher, he had a unique way of making his students feel heard and understood. As a scholar, he was a source of knowledge and inspiration. What will stay with me most, however, is how incredibly generous this witty and warm-hearted man was with the most precious of resources: time. When he edged you in for an office hour late in the evening, you knew you would still receive his full attention, get a bit of good advice, and share a laugh. It is unspeakably cruel that Christoph, nightwatchman of U9, was granted so little time himself. My thoughts are with his family and with all those who were close to him.
Roberta Maierhofer
Erich Fried: Vielleicht

Erinnern
das ist
vielleicht
die qualvollste Art
des Vergessens
und vielleicht
die freundlichste Art
der Linderung
dieser Qual

With a sad heart and deep appreciation for his support, collaboration, and friendship, I want to acknowledge Christoph as a scholar and teacher, a mentor and supporter, a friend and a colleague, but foremost as a wonderful human being, a real Mensch, who has enriched all our lives.
Sandra Wölfel, geb. Schardt
Vielen lieben Dank, Herr Houswitschka, für Ihre Freundlichkeit, die Weitergabe Ihres Wissens, die unaufgeregte Betreuung von Hausarbeiten und die begeisterte und interessierte Abnahme von Staatsexamens- und Promotionsprüfung. Ich werde Sie als Hochschullehrer und Mensch in allerbester Erinnerung behalten!
An Nguyen
After my defense, you asked me to write you at some points in the future, so that you'll have an idea what your students are working on. I never imagined so soon afterwards I wouldn't be able to do that anymore. You have been definitely a big part in many of our journeys. Not just because of your classes, knowledge or supervision; but also because of your understanding, support and tolerance for our problems and mistakes.
I will remember how you gently smiled when arriving late (often) to a class, for a long time.
Iris Pikouli
I am devastated beyond words by the tragic and unexpected loss of Prof. Dr. Christoph Houswitschka.
His unconditional support as well as his compassion and kindheartedness created a familial atmosphere at the department which made his students feel at home. Each conversation with him was unique, due to his witty humor and extensive knowledge about so many subjects. I will always cherish my memories of him during my years as a student.
His contributions to the academia will be forever treasured and his gentle soul will live on.
Prof. Houswitschka radiated a warmth and kindness to this world that we, as his students, will strive to preserve.
Simone Linz
Die Nachricht von Prof. Christoph Houswitschkas viel zu frühem Tod hat mich zutiefst bestürzt. Ich durfte ihn als sehr warmherzigen, herzlichen und inspirierenden Menschen kennenlernen, der stets ein verschmitztes Lächeln auf den Lippen hatte. Seine Begeisterung für sein Fach und sein unglaubliches Wissen hat jedes Seminar und jede Vorlesung besonders gemacht. Ich habe mich damals sehr gefreut, dass ich ihn als Zweitkorrektor meiner Masterarbeit gewinnen konnte und ich hatte immer gehofft, er würde auch der Zweitkorrektor meiner Dissertation werden.
Lieber Prof. Houswitschka, Sie hinterlassen eine große Lücke, ich werde Sie sehr vermissen!

Dirk Müller
Ich war unfassbar traurig, als mich diese Nachricht erreichte.
Er war ein ganz besonderer Mensch, der unterstützte und ein offenes Ohr bot. Viel mehr als ein Professor und Lehrender - eine außergewöhnliche Persönlichkeit.
Christoph, du wirst fehlen.
Prof. Dr. Christa Jansohn und Mitarbeiter:innen des Lehrstuhls für Britische Kultur
Irgendwann
Wird sie wieder scheinen,
die Sonne der Seele,
es wird nicht für immer
dunkel und kalt bleiben.

Irgendwann
Wird sich auf den Gesichtern
Der Traurigen ein Lächeln zeigen,
wird wieder Leben gesät
im Schmerz.

Leise
werden diese Wunder geschehen,
Gott,
ganz leise.

Die Zeilen C.E. Schreys mögen Ihnen, liebe Chiara Manghi und Familie Houswitschka, in diesen schweren Stunden des Abschiednehmens Trost spenden. Tief berührt möchten wir Ihnen unsere herzliche Anteilnahme aussprechen und Ihnen viel Kraft für die nächste Zeit wünschen.


Anja Müller
Lieber Christoph, es wirkt immer noch so unwirklich. Du warst nicht nur ein Habilvater, der täglich vorgelebt hat, wie Uni sein soll, wie man Prof sein und Mensch bleiben kann. Du warst auch ein wundervoller Freund, mit dem man reden, lachen und schweigen konnte, um dann gleichzeitig denselben Gedanken auszusprechen. Deine Begeisterung und Neugier, dein Spaß am Denken, und deine Begabung, anderen Selbstvertrauen zu geben - all das war Motivation und Inspiration. Zu gerne denke ich an all die gemeinsamen großen und kleinen gemeinsamen Unternehmungen zurück. Auch wenn wir uns in den letzten Jahren nicht mehr so oft sahen, war doch immer ein Gefühl der Verbundenheit da, so dass wir beim Wiedersehen sofort anknüpfen konnten. Und als du letztes Jahr anriefst, aber erst keine Zeit zum längeren Telefonieren war - da schien es so selbstverständlich, dass wir das einfach irgendwann in Ruhe und ausgiebig nachholen werden. Und jetzt... Christoph, du fehlst mir. Ein Trost bleibt, in der Spur, die du hinterlassen hast, den vielen Erinnerungen. Die werden bleiben. Und damit bleibst auch du immer bei uns. Danke dir, für alles.
Anna Hench
Die Nachricht von Prof. Houswitschkas viel zu frühem Ableben traf mich wie ein Faustschlag. In der kurzen Zeit, die ich ihn im Laufe meines BA-Studiums kennen durfte, hat er einen bleibenden, positiven Eindruck auf mich hinterlassen. Er war mir mehr Mentor als Dozent und hat mich nachdrücklich ermutigt, beständig über mich hinaus zu wachsen. Dafür werde ich ihm immer dankbar sein und ihn in höchst respektvoller Erinnerung behalten. Danke, Herr Houswitschka, für alles, was Sie mir beigebracht haben.
Benjamin Pohl
In tiefer Trauer um einen lieben Freund und großzügigen Lehrer, sowie in täglicher Dankbarkeit für die vielen Jahre gemeinsamer Erfahrungen, Erlebnisse und Erfolge, denen der Begriff "Doktorvater" unmöglich gerecht werden kann. Du warst, bist und bleibst für immer ein wichtiger und unersetzbarer Teil meines Lebens, lieber Christoph. Mach's gut.
Vika Ph.
At the moment I got the news, I could not believe what I was hearing. I am heartbroken by the untimely death of Dr. Prof. Christoph Houswitschka.
He was a kind and supportive supervisor to me in both my academic and personal lives. He was willing to help and gave me much-needed encouragement, especially when I was struggling during the pandemic.
I was unable to express my thanks before he left the world, so I am just holding back my unsaid gratitude to such a great professor. It is my huge honor to know him in my life.
Peace in your eternal and easy rest!
Jürgen Bründl
Lieber Christoph, wie habe ich mich immer gefreut, dich zu treffen, sozusagen den anderen Niederbayern im fränkischen Ausland. Deine Fröhlichkeit und deine Offenheit haben jedes Gespräch besonders gemacht. Und sogar »auf der Arbeit« war es immer entspannt und gut, wenn du dabei warst. Es lässt sich nicht ins Wort fassen, wie sehr du hier, wie sehr du überall fehlst, als Kollege und als Freund. Adieu.
Mary Sutton
Professor Houswitschka was one of the first people whom I met at the university. He popped into Professor Münderlein's office while I was registering for my first semester of classes. He introduced himself as the head of the department, but conveyed none of the aloofness that people in such positions often do. What I remember best about him was his smile—warm, gentle, and a bit shy. In the only course that I took with him—Middle English Romances, taught alongside Gabriele Knappe—his lectures were erudite yet simple. He communicated dense and complicated ideas with ease and directness. I'm grateful for having known him a little, but sad that others won't have the benefit of his superb instruction.
Chaima Aouadi
I will always remember Professor Houswitschka when he replied to my first email to the university of Bamberg at 1 am in a summer night while I was dreaming of pursuing my master. He was the first European who not only warmly opened the door for a hopeful and bright future but also wisely guided me in my academic adventure on what he called "the Bavarian Shores". My experience as an International Master graduate and a fresh PhD student under his supervision has been amazingly influenced by his revealing inspiration, unique humility, and incredible insight. Words fail to describe the dear treasure the world has lost but one thing is sure; his immense heritage will always be cherished till the end of the road. My deepest sympathies to his family, colleagues and all his loved ones.

Dear Professor, you will be missed.

Kai Nonnenmacher
Lieber Christoph, es war so viel Aufbruch in Deinem Leben, wenn wir in letzter Zeit gesprochen haben. Deine Kollegen sind wie von selbst Deine Freunde geworden, und wir können noch nicht glauben, dass Du gegangen bist. Du hast mich seit meinem Antritt in Bamberg ganz selbstverständlich als Mentor an die Hand genommen, wir haben bald schon gelacht, beim Wein diskutiert, Pläne gemacht. Vielleicht schaffen wir es, uns Dich als Vorbild zu nehmen. Words cannot express our sorrow.
Susen Halank
Die Nachricht über Professor Christoph Houswitschkas viel zu frühen Tod hat mich tief bestürzt und erscheint weiterhin unglaublich. Ich habe ihn als engagierten, motivierten, freundlichen und humorvollen Dozenten in Erinnerung, der seinen Studierenden jederzeit hilfsbereit zur Seite stand. Seine literarische Begeisterung und der schwer beeindruckende Umfang seines Wissen war in jeder Seminarsitzung und in jedem Gespräch mit ihm bemerkbar und sein Tod ist ein schrecklicher Verlust. In Erinnerung bleiben mir vor allem Eindrücke von der gemeinsamen Exkursion nach Dorset mit dem Lehrstuhl für Englische Literaturwissenschaft, von der er auch in späteren Kursen immer wieder begeistert berichtete und die mit zu den Höhepunkten meines Studiums gehört. Meine Gedanken sind bei seiner Frau und Familie, seinem Lehrstuhl, seinen Kollegen und Freunden.
Martin Randak
Ich besuchte während meines Bachelorstudiums das Seminar "Frankenstein" bei Herrn Professor Houswitschka und schrieb hierzu eine Hausarbeit. Die Hausarbeit war während meines gesamten Bachelor- und Masterstudiums die wissenschaftliche Arbeit, bei der mir der Arbeitsprozess am meisten Spaß gemacht hat. Dies wäre nicht möglich gewesen, wenn Herr Houswitschka nicht so unterstützend gewesen wäre, meinen Forschungsinteresse nachgehen zu können und so unkompliziert und hilfsbereit gewesen wäre, als es um verwaltungstechnische Schwierigkeiten bei der Anrechnung dieses Seminares für mein Studium ging und auch bei einer Verlängerung der Abgabefrist. In den wenigen Malen, wo ich persönlich mit ihm Kontakt hatte, habe ich ihn als sehr sympathischen, herzlichen und angenehmen Menschen erlebt. Es sagt wahrscheinlich sehr viel über Herrn Houswitschka als Menschen aus, dass mich sein überraschender Tod so sehr mitnimmt, obwohl ich nur ganz wenig persönlichen Kontakt mit ihm während eines Semester hatte. Ich wünsche seiner Familie ganz viel Kraft in dieser schweren Zeit.
Alfred Hierold, Rektor a. D.
Herrn Kollegen Houswitschka habe ich sehr geschätzt. Er möge ruhen in Frieden.
Simona Adinolfi
I had the honour of meeting Prof. Houswitschka during my Join Degree Master's in English and American Studies. He agreed to to be second supervisor to my Master's Thesis and was the first person to tell me I should pursue an academic career. I remember him as a man of encyclopedic knowledge, a wise and kind human being who showed generous and disinterested care for his students, encouraging them to reach their goals. To this day, I still read his report to my Master's Thesis in difficult times, to keep on going and find my strength again. Academia has lost a great scholar, but we people have lost a great human being.
Katrin Bauer
Lieber Christoph,
wir wollten uns doch noch treffen! Viel zu wenig Kontakt hatten wir in letzter Zeit, wenn, dann war er intensiv, inspirierend und aufrichtig. Wie dankbar bin ich, dass wir es immer wieder geschafft haben, zusammenzukommen und dabei zutiefst persönliche und gleichzeitig politische Gespräche geführt haben. Wie dankbar, dass ich von Dir lernen durfte, in so vieler Hinsicht. Wie dankbar, zu wissen, dass Du ein volles und reiches Leben hattest. Und wie unfassbar traurig, all dies in der Vergangenheit zu sagen. Du fehlst in der Gegenwart!
Felicia Stich
Professor Christoph Houswitschkas viel zu früher Tod hat mich tief bestürzt. Aus meiner Zeit in Bamberg kenne ich ihn als warmherzigen, humorvollen und engagierten Dozenten und Mentor, der für seine Studierenden immer ein offenes Ohr hatte. Sein Wissen und seine Begeisterung für Literatur waren in jedem Gespräch greifbar und ansteckend, und er hinterlässt eine unglaubliche Lücke. Nie vergessen werde ich die von seinem Lehrstuhl organisierte Exkursion nach Dorset, die zu den schönsten Erinnerungen meines Studiums zählt. Ich bin in Gedanken bei seiner Frau und Familie, seinem Lehrstuhl, seinen Kollegen und Freunden.
Tieu Van Duong
"There is no pain so great as the memory of joy in present grief." (Aeschylus)
Prof. Dr. Christoph Houswitschka was an extraordinary great man with such a good heart that we feel privileged to have been one of His students. My heart was deeply saddened by His premature death. My condolence.
His loving warmth and generosity will stay forever with us.
Annika Kraftzyk
Professor Christoph Houswitschkas Tod traf mich völlig unerwartet. Nach wie vor kann ich es kaum fassen und empfinde tiefe Trauer und Schock. Ich hatte das große Glück, Christoph bereits zu Beginn meines Bachelorstudiums kennenzulernen. Besonders in Erinnerung ist mir hier die von Christoph geleitete Exkursion nach Buxton geblieben, auf der ich seinen einzigartigen Humor, seine große Begeisterung für die englische Kultur und Literatur sowie seine warmherzige Art zu schätzen lernte. Christoph, ich bin unglaublich dankbar für die fachliche und menschliche Unterstützung, die ich während meines gesamten Studiums und auch danach bei meiner Entscheidung zu promovieren von dir erhalten habe. Dein unglaubliches fachliches Wissen, aber vor allem deine warmherzige und humorvolle Art werden mir sehr fehlen.
Susanne Talabardon
Lieber Christoph,
da mir die eigenen Worte noch fehlen, leihe ich mir welche von Itzik Manger. Was wir in den Jüdischen Studien und im ZIS ohne Dich tun und sein werden, wer möchte sich das vorstellen?

Du host gesehn, banumen un' wi seltn wer
Hostu alz gelaitert, gesunikt un' fartift.
Dajn neschume hot mit a seltn goldener schrift
Farzeichnt jedn fers, jedn troier, jede trer.

Du hast gesehen, verstanden und wie selten einer
Hast du alles geläutert, besonnt und vertieft.
Deine Seele hat mit einer selten goldenen Schrift
Jeden Vers verzeichnet, jede Trauer, jede Träne.
(Itzik Manger, Notte Manger. Auszug)

Hedwig Gaudlitz
Ich habe Prof. Houswitschka als Dozenten kennengelernt und einige Zeit als Hiwi in der Englischen Literaturwissenschaft gearbeitet. Er war ein von Herzen guter Mensch - freundlich, humorvoll und liebenswert.
Es bricht mir das Herz für seine Familie und alle, die enger mit ihm zusammengearbeitet haben.
Georgiana Banita
It's so painful to see such a large intellectual life simply disappear. We will never see you again, dear Christoph, but the aura of your scholarly and professional passions will continue to warm us. I will cherish the kindness you left behind, your heartfelt words of advice and the sense you conveyed, despite your achievements and seniority, that you were always talking to someone, not down on them. Your voice and presence will endure. As will that lived-in sense of trust and familiarity that made you such a great interlocutor, friend, and mentor.

My deepest sympathy goes out to all the loved ones and colleagues Christoph shone his light on over the years, not least his heartbroken students.

Markus Behmer
Lieber Christoph, einmal noch wende ich mich direkt an Dich, nicht fassen könnend, dass wir nun nurmehr in der Vergangenheitsform von Dir und nicht mehr mit Dir sprechen können. Neben Deiner Zugewandheit, Deiner zutiefst mitmenschlichen Kollegialität, Deinem Einsatz in und für die Universität hat mich auch oft Dein stupendes literarisches Wissen, Deine Belesenheit beeindruckt - Deine Kennerschaft durch alle Epochen und Gattungen. Wie eine gothic novel kommt es mir vor, wie ein gänzlich unromantischer Schauerroman, dass Du nicht mehr hier sein sollst. Immer wieder einmal hast Du von Deinen kurzen Nächten erzählt, Schlaf findend nach langer Lektüre erst in den frühen Morgenstunden. Schlafe nun gut, lieber Christoph.
Touhid Chowdhury
The last few days felt like ages; every minute felt like days, if not weeks. It was like having a bad dream again and again, only to realise that it was not a bad dream at all! I was grieving, and I am still grieving the untimely death of Prof. Dr. Christoph Houswitschka, who had always been an inspiration; he believed in me even when I was not. I am what I am today because of him. I am who I am today because of him. It was a great honour knowing him and a privilege working with him, which I will cherish rest of my life. Prof. Houswitschka will be missed in every part of my life, both in sorrows and happiness. He is gone, but he will not be forgotten. He will live in me and in all who knew him.
Mareike Spychala, M.A.
I still struggle to find the proper words to express the shock and grief at the sudden passing of Professor Cristoph Houswitschka. As an alumna of the European Joint Master's Degree in English and American Studies, I will forever remember his welcoming presence, his vast knowledge, and the joy with which he shared it with his students. As a colleague and PhD candidate, I will forever be grateful for his support and interest in my research. As a human, I will forever remember his warmth and his generous spirit. To say it with Marie Howe: "I am living. I remember you."
Dr. Sarah Böhlau
Christoph Houswitschka wird allen seinen Student:innen und Kolleg:innen als ein genuin guter Mensch in Erinnerung bleiben. Seine warme Persönlichkeit, ruhige Kompetenz und seine ansteckende Liebe zur Kunst des Erzählens hat zahlreiche Menschen unterstützt, begleitet und geprägt. Sein positiver Einfluss in- und außerhalb unserer Universität wird dauerhaft spürbar sein und sein Verlust lange schmerzen.
Lina Strempel
Christophs plötzlicher Tod hat mich erschüttert. Es ist schwer zu fassen, dass sein Leben und Wirken hier so ein abruptes Ende gefunden haben. Ihm und allen mit ihm hätte ich noch so viel mehr Zeit gewünscht! Da ist aber auch eine große Dankbarkeit, ihn gekannt zu haben. Christophs Wissen, sein Humor, seine Neugier, Lebensfreude, ja, seine ganze unvergleichliche Art werden am Institut, dem gesamten Fach, aber auch mir persönlich sehr fehlen. Meine Gedanken sind bei seinen Angehörigen, dem Lehrstuhl und allen, die sich ihm verbunden fühlen.
Rachele S. Bassan
Professor Houswitschka was one of the most generous people and the kind of scholar we should all hope to become: his humanity was exceptional and his learning outstanding. He was almost a paternal figure to many of us students. To 'too black' coffee, fin-de-siècle Vienna, convoluted family history and those libraries we really meant to tidy up although we never got to. Thank you for your kind guidance and sit tibi terra levis, we will miss you very, very much.